2022 / 2019 / 2018 / 2017 / 2016 / 2015 / 2014 / 2013 / 2012 / 2011 / 2010
Villy Adia Avi
One member of our team is done with his show career. He is now registered stud male and recieved following titles:
Puppy Champion KPaCHP
Junior Champion KPaCHP
Club Champion KPaCHP
Czech Junior Champion
Czech Champion
Club Junior Winner KPaCHP
Special show winner Pudl klub
Best Puppy male at club show KPaCHP
The Junior male at club show KPaCHP
2x 2nd Best miniature male of club show KPaCHP
3x CAJC CZ
5x CAC CZ
CACIB MVP Brno 2011
BOB MVP Brno 2011
BIS 3rd at club show KPaCHP
His breeder Iva Králová, kennel Adia Avi, is really happy that she bred such a nice boy. As well as his owner Radim Beniček from Sázava.
Many thanks for your trust in our service! We enjoyed his special show nature very much!
Vill's website: www.adiaavi.cz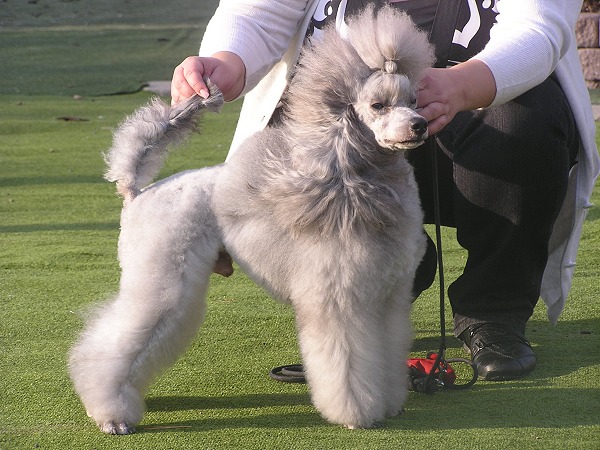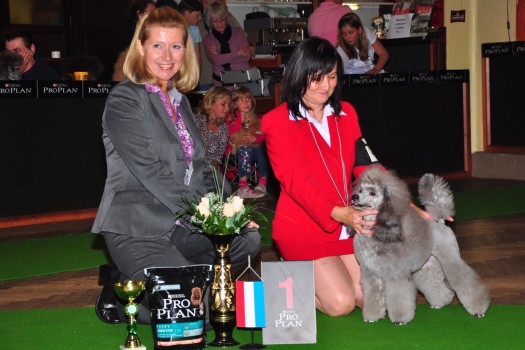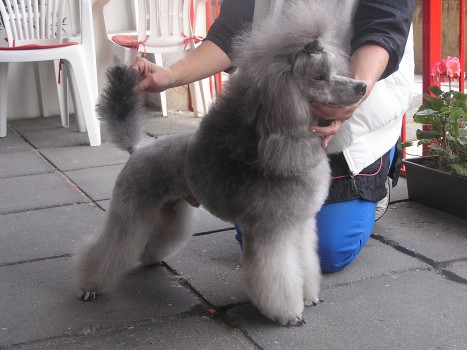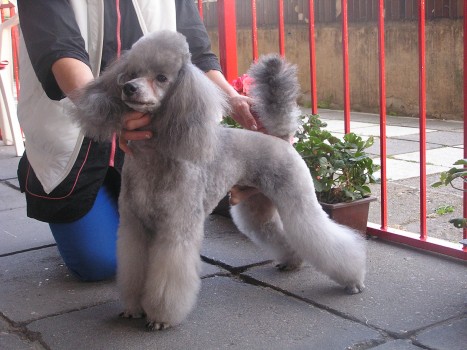 Artra Recatty
Tony's daughter Artra Recatty (dam: Carmen Allegoria Magni Loquentia), living in Poland in kennel Raciborski Puch, got title Champion of Poland. She is already 3rd puppy with national champion certificate from this combination.
Both brothers Aramis and Abar Recatty are already Czech champions.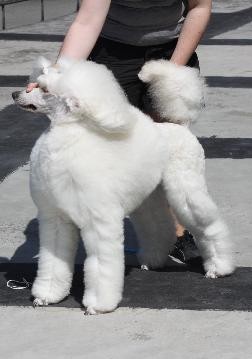 2.12.2012 - Advent show VDP, Halle
Tony together in braces with his daughter Aquilera were on 1st place.
Aquilera got her first VDP CAC and VDH CAC and became The Best standard female of the show.
Daddy Toník got his diploma of VDP Siegerchampion.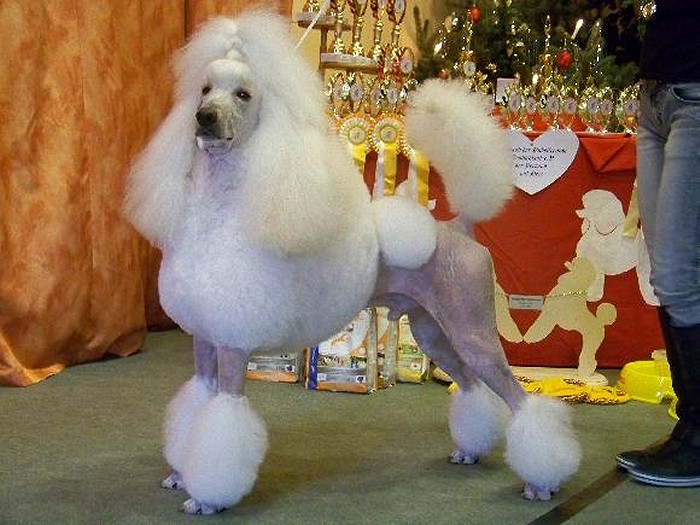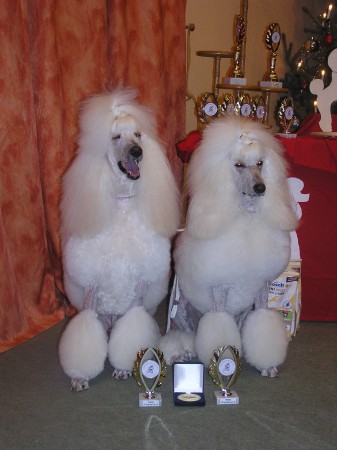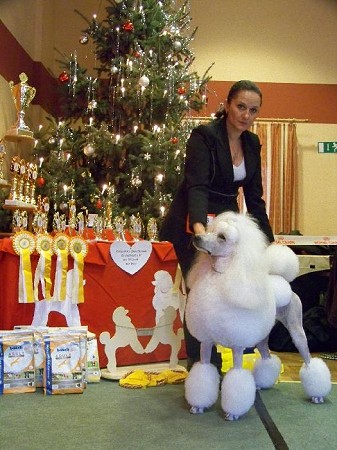 Club show KCHP Prague 24.11.2012
Judge: Linda Barker from England
Antonio Pikovický poklad - Tony junior - got res. CAC in open class and was registered as a stud male.
Tony was Best male of honour class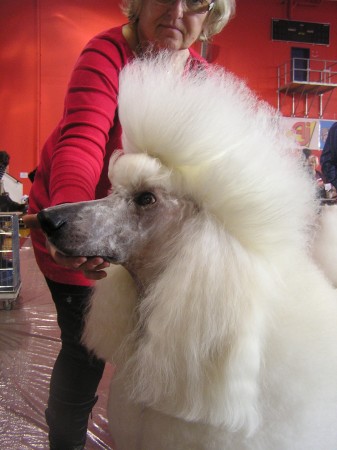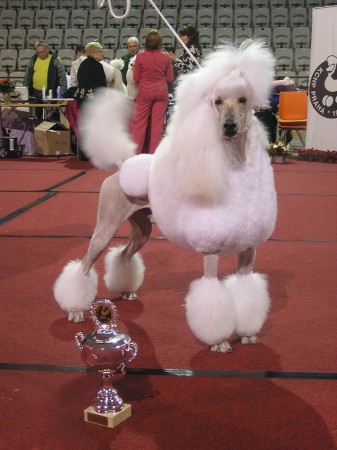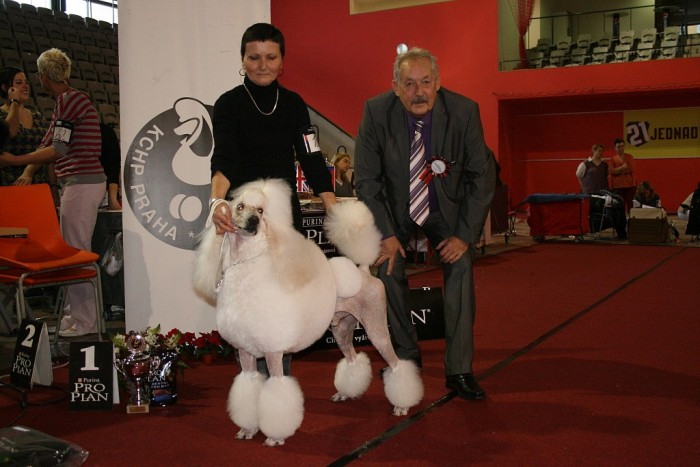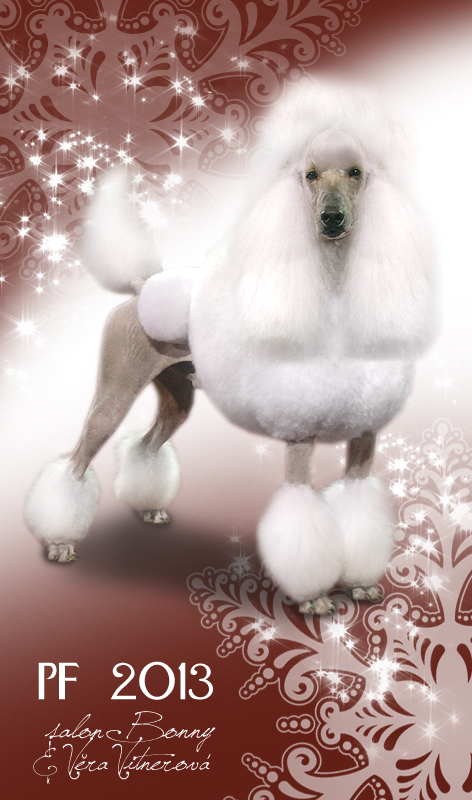 3.11.2012 - IDS Prague
Our 10,5 yers old flatcoated retriever girl Gwynet Cher Tichý Ruland was shown in Prague. Judge František Němec gave Veteran BOB title.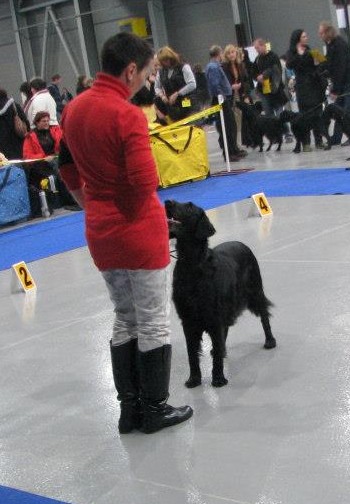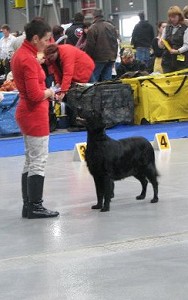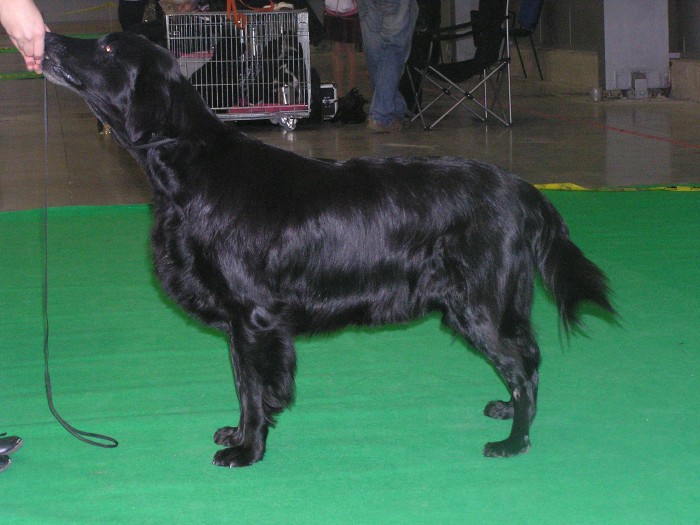 27.10.2012 - Club show PK, Středokluky
Club show of Pudl klub in Středokluky was 27.10.2012 and judge was Monika Blaha from Austria. Aquilera got her first title Club Winner, Tony became Best honour dog and together with his daughter were in Braces competition. They were placed as first and Tpny was also on 1st place in Junior Handlingu with Simonou Kupicová. High Style Yrtep and Chic Chance Yrtep both got CAC and Club Winner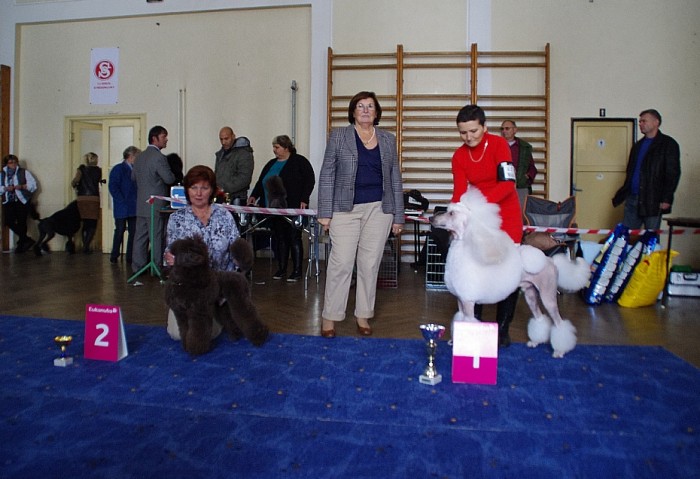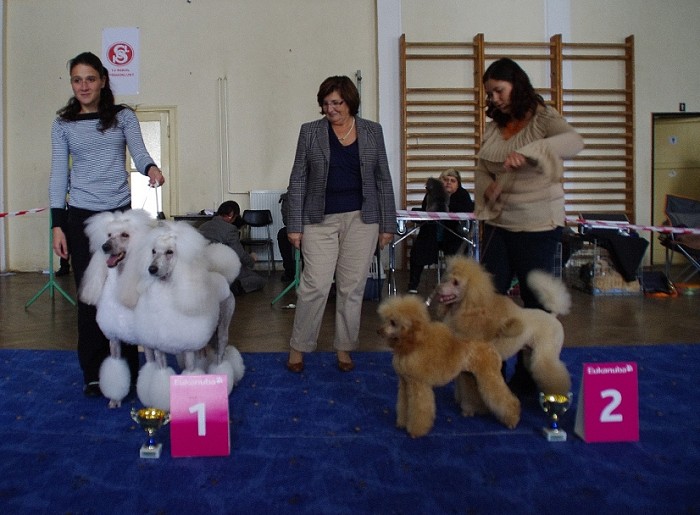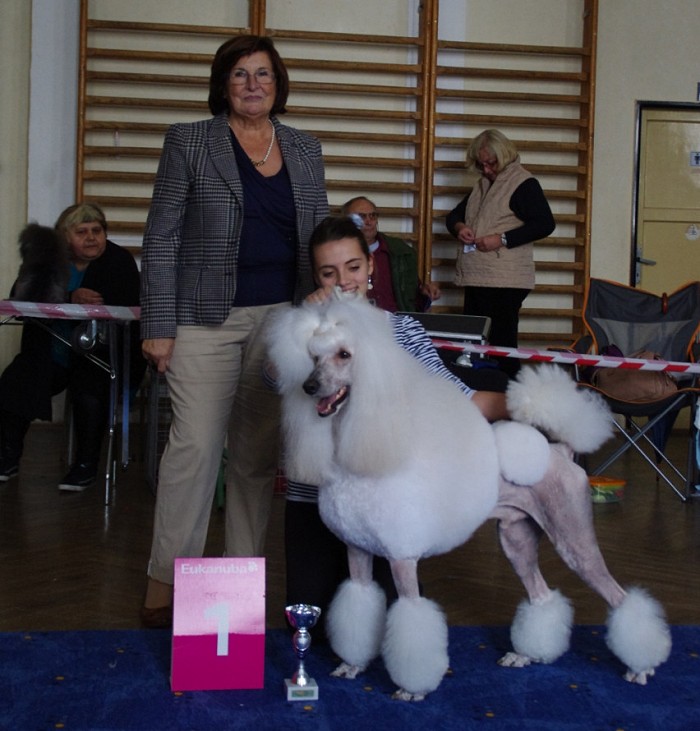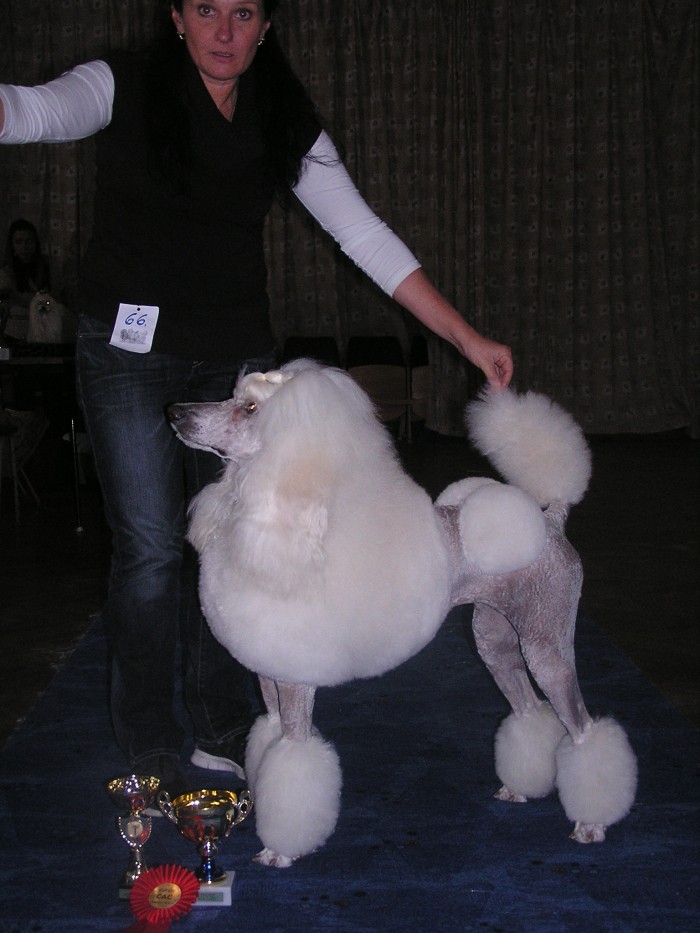 14.10.2012 - IDS České Budějovice
Tony's daughter Aguilera met conditions of Czech champion and son of Tony Antonio recieved his very first CACIB. Medium white boy Chic Chance Yrtep, owned by Zdeňka Hrdličková, got CAC CZ in intermediate class.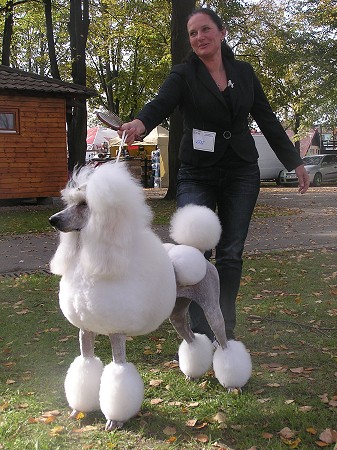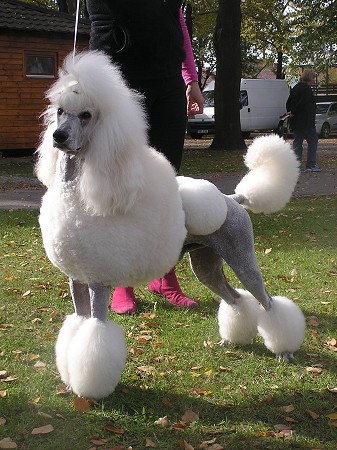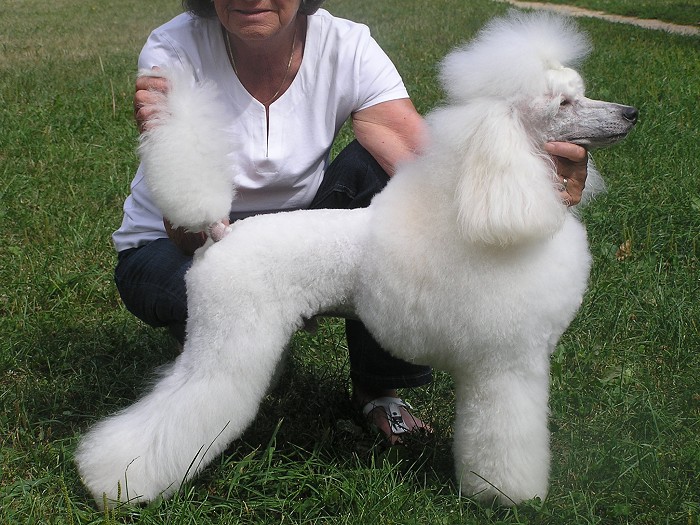 At Club show of KPaCHP in Pargue-Stodulky Tony got his next BIS. Show was judged by Ing. V. Kučerová and Tony got following titles The Best standard male, The Best male and BIS. This year it is his 3rd BIS Speciality.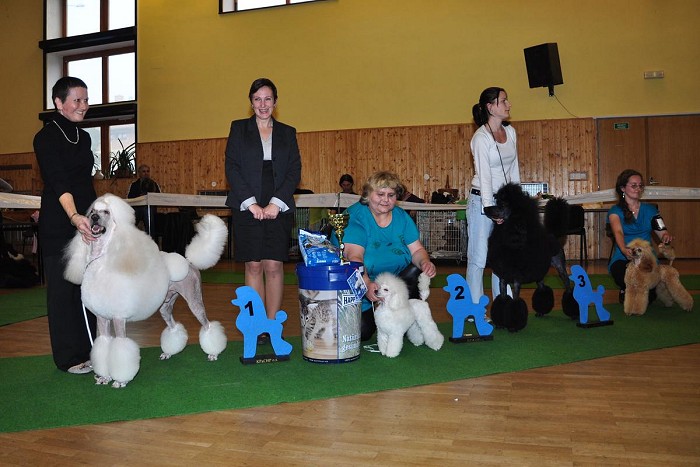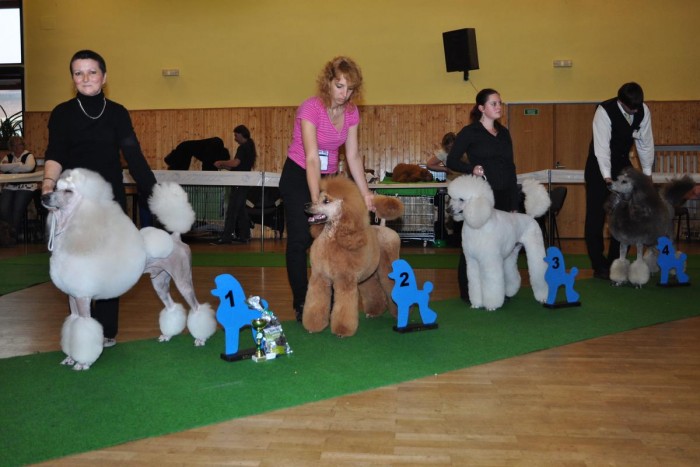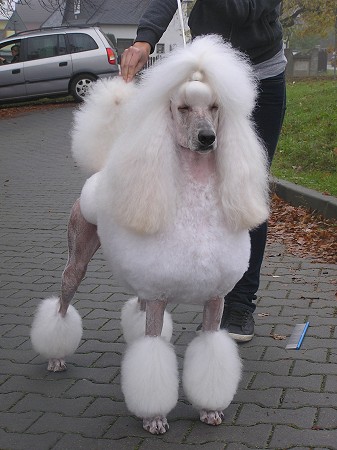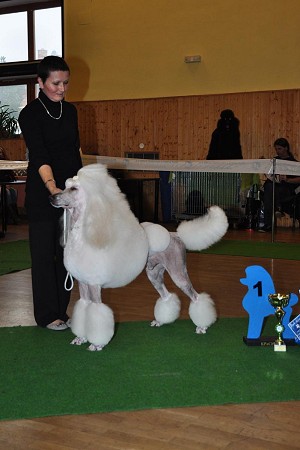 Aramis Recatty and his show highlights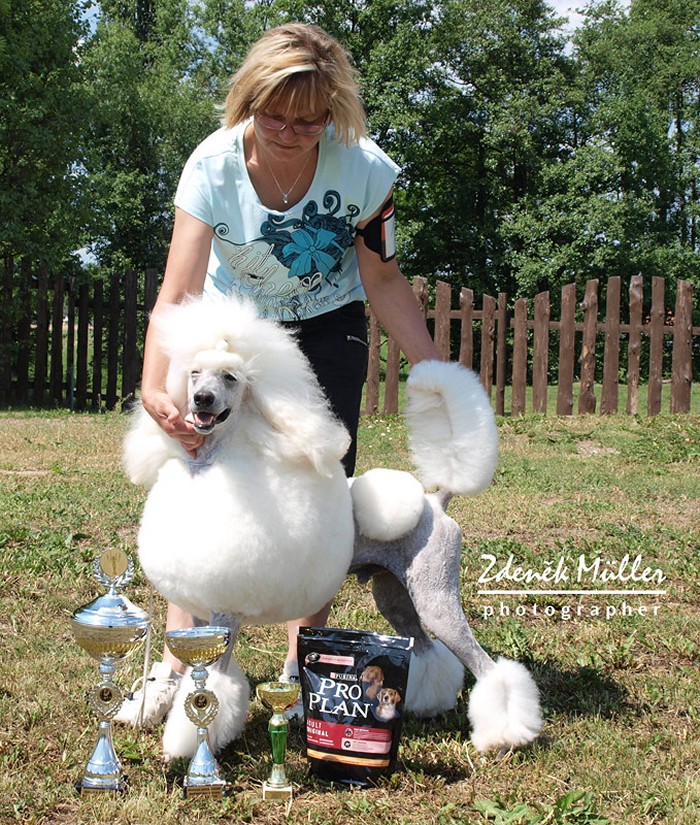 Show results of Tony's son Aramis Recatty within last two months:
3. a 4.11.2012 IDS Prague /judges: P. Richard from France and S. Wheeler from Sweden/ - 2x CAC CZ
30.9.2012 IDS Tulln - /Urschitziris, A/ - CACA AT, res. CACIB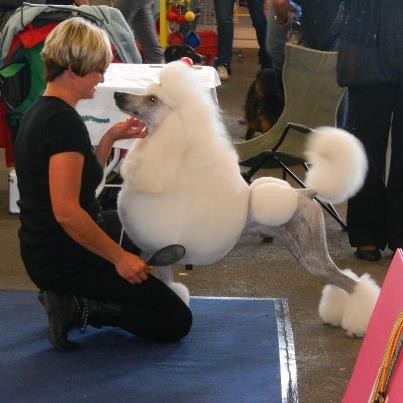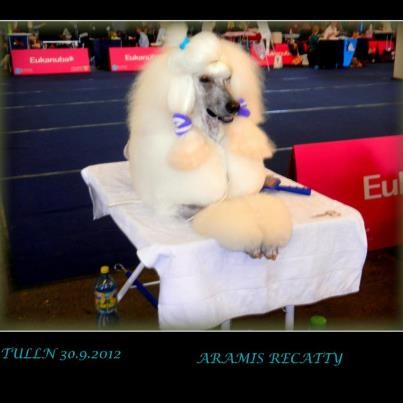 9.9.2012 Regional show Brno - /judge: Vladimír Mojžíš /
Open class winner, Regional winner
11.8.2012 Club show KCHP Ostrava - /judge: MVDr. Edita Králová/
Club CC, The Best standard male of the show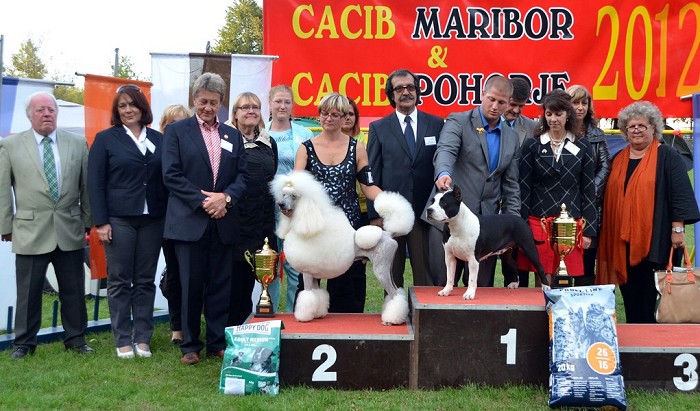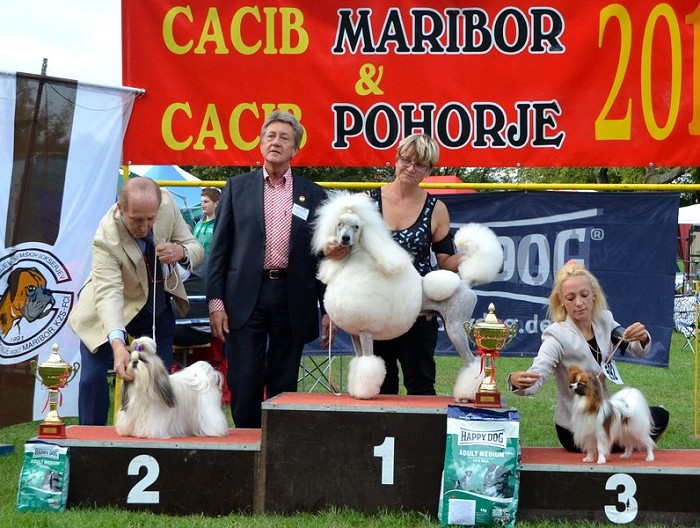 15. a 16.9.2012 Club show Slovakia Kamenný Mlýn - /judge: M. Slooijer NL, G. Sarközy HU/
2 x CAC SK, Club winner 2012, The Best white poodle
22.9.2012 IDS Maribor Slovenia - /judge: Hans Boleaars NL/
CAC SLO, CACIB, BOB, BIG, res. BIS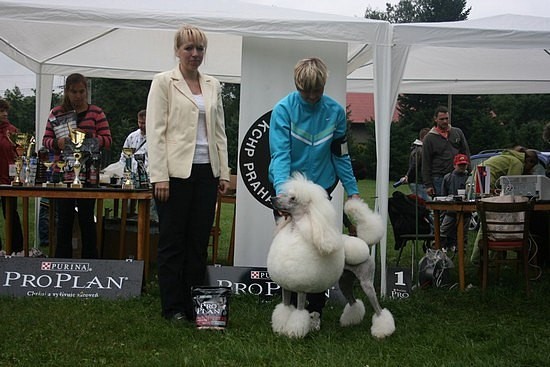 23.9.2012 IDS Pohorje Slovenia - /judge Veli Pekka Kumpumäki FIN/
CAC SLO, CACIB, BOB
We are so happy for such fine results and we wish many more to his owner!
25.8.2012 - Club show KCHP in Poděbrady
Tony's son Antonio Pikovický poklad - Club CC and Best standard male of the show, judge Laurent Heinesch, LUX. Tony was again perfectly handled by Andrea Farkašovská.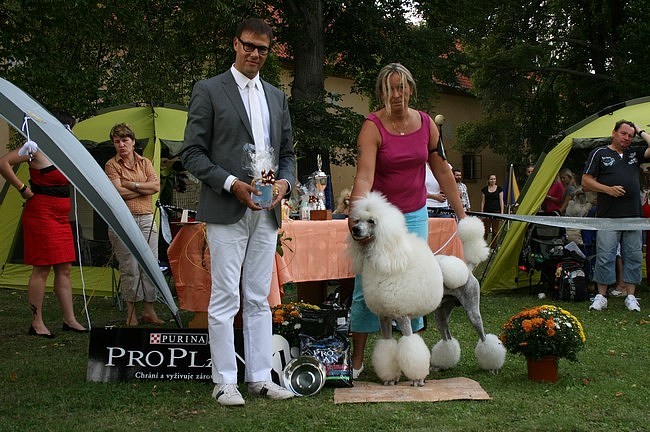 12.8.2012 - Club show KPaCHP Konopiště
Show was again organised in beautiful area of Konopiste castle, weather was wonderfull and results even better!
Judge was Renate Möbius from Germany.
JCH.Aquillera Pikovický poklad recieved diploma of Club Junior Champion and became registered breeding female.
ICH.Annabel du Cristaux Glaceés recieved diploma of Champion of Champions and became 4th Best female of the show.
CH.Abar Recatty got diploma of Club Junior Champion, became registered stud and 2nd Best standard male.
CH. High Style Yrtep became new Club champion, Best medium male, Best male and BIS 3.
CH.Yoko Ono z.Riegelsfeste became Best standard female of the show, Best female of the show and BIS 4.
Her brown daughter Angelina Brown Laronna "Angelina" was 2nd Best puppy of the show.
Our poodle pair Abar Recatty and Aquilera Pikovický poklad was number 1 in afternoon pairs competition.
Black poodle Diodoro Nontiscordardime became Best in show puppy at club shows organized by KPaCHP.
Big congratulation to all!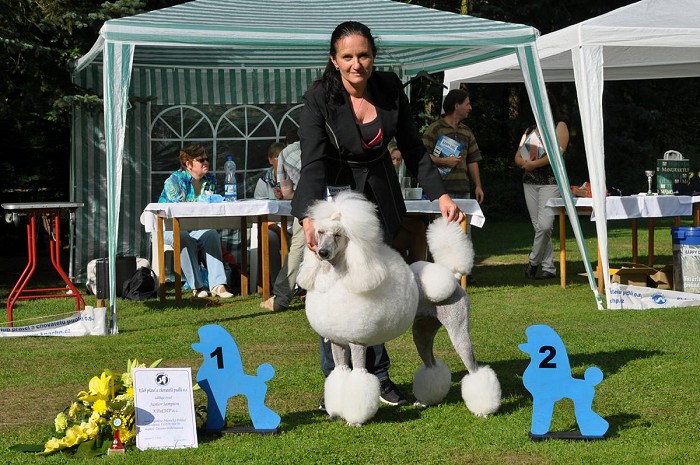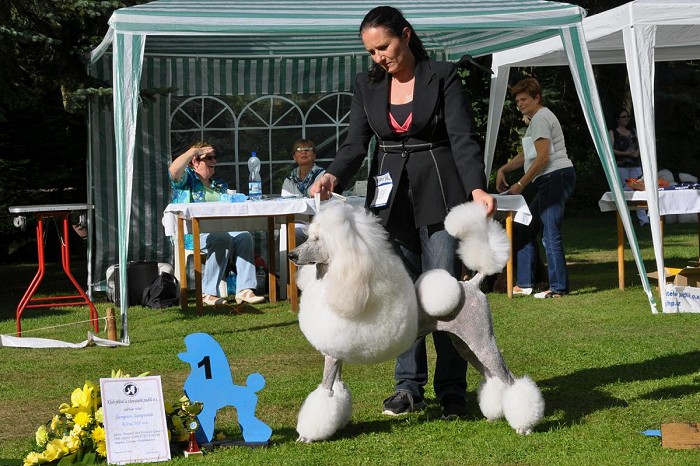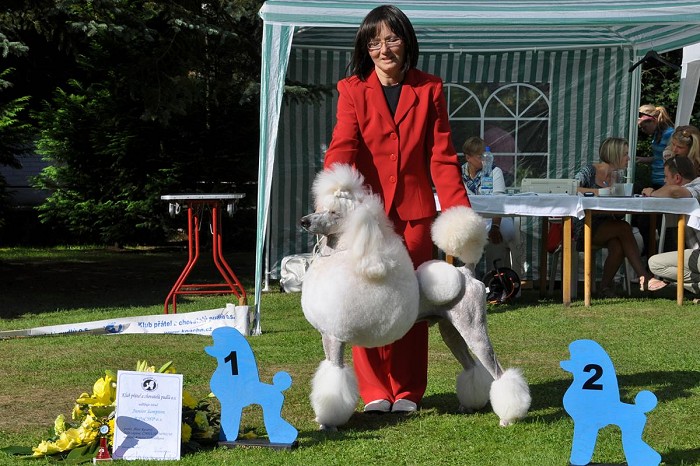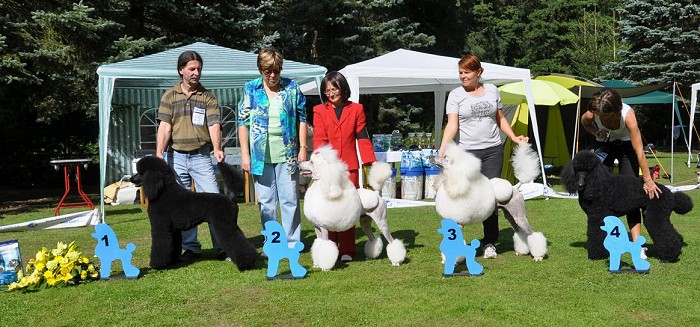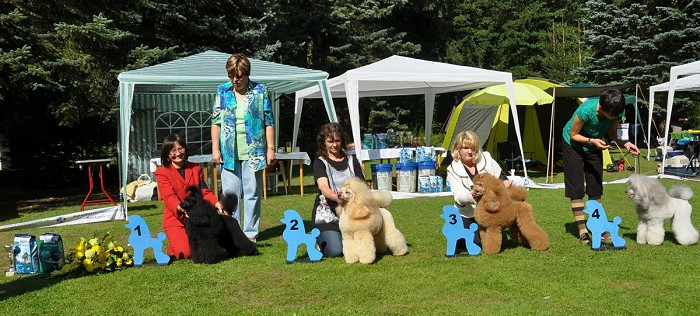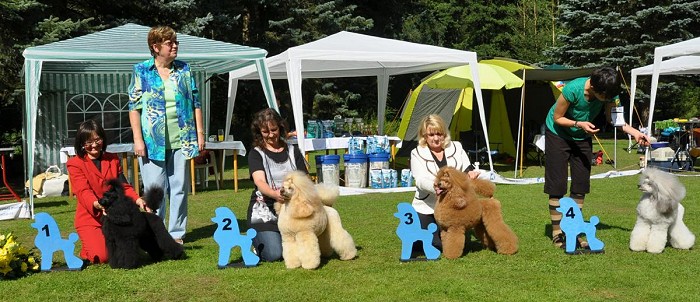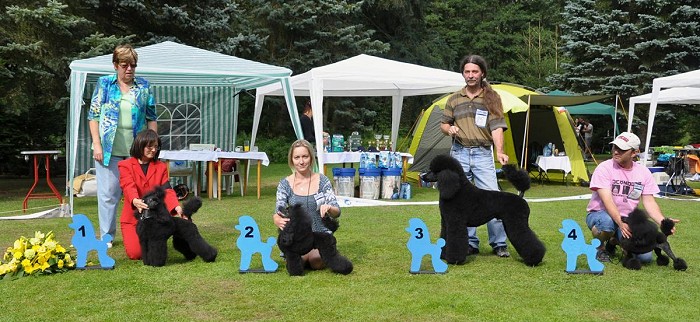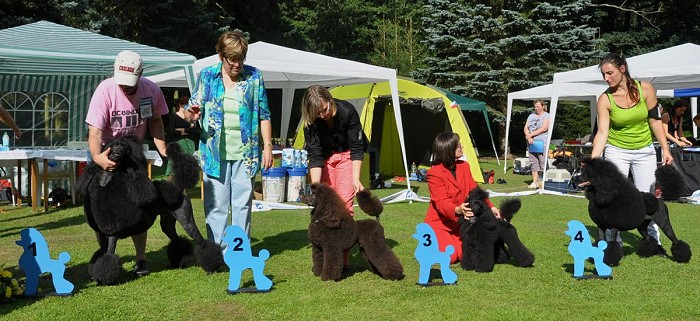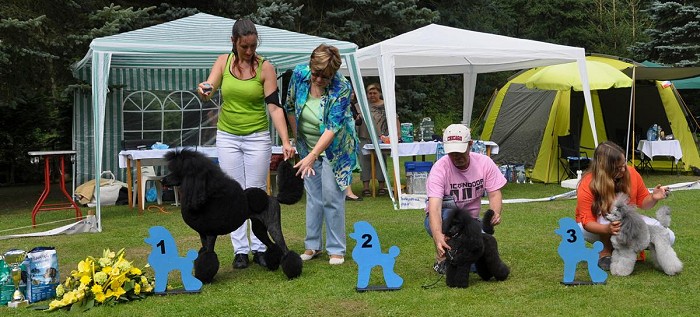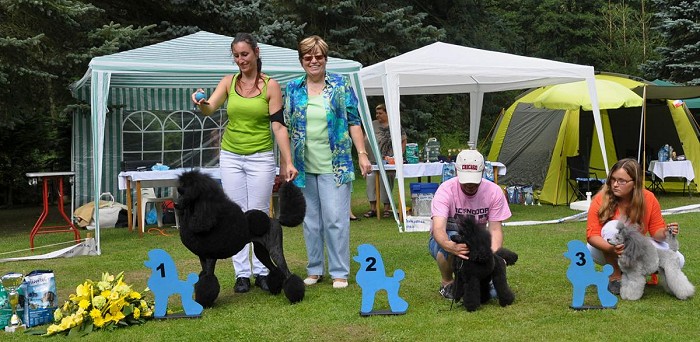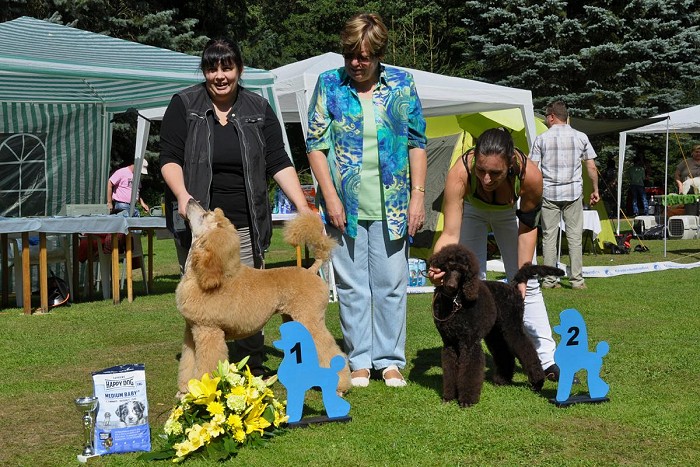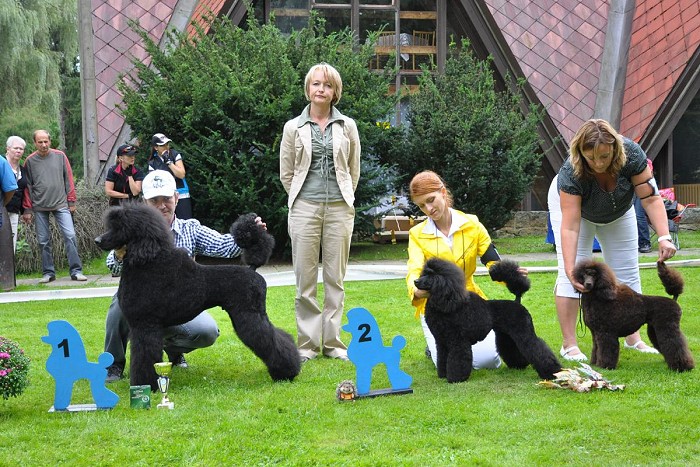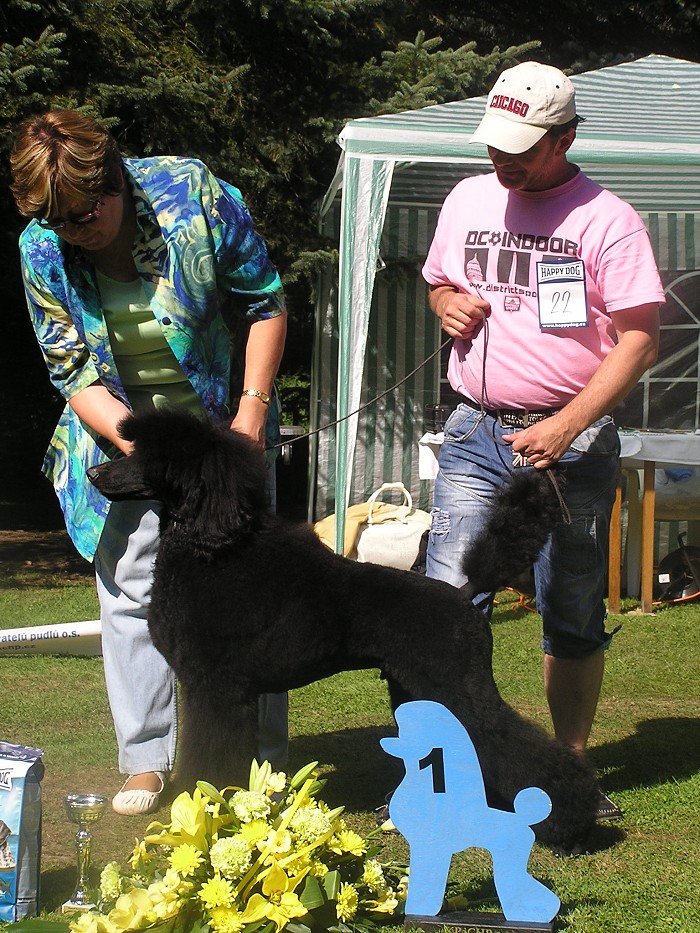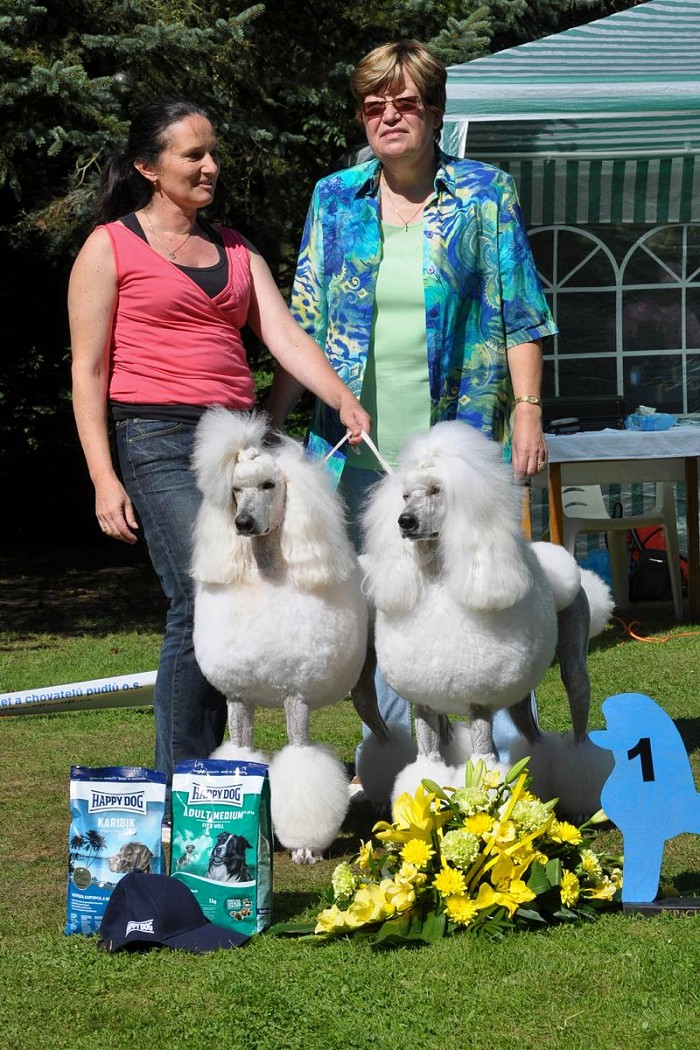 Club show Pudl klub Kladno - 11.8.2012
Judge: Mr. Stefan Wächter from Germany.
My daughter Jana handled miniature grey poodle Villy Adia Avi, who got his 4th CAC CZ and became Czech champion. He also got Club CC and Special show winner.
Medium white male Chic Chance Yrtep, handled by Jana as well, got CAC CZ, Special show winner, Club CC.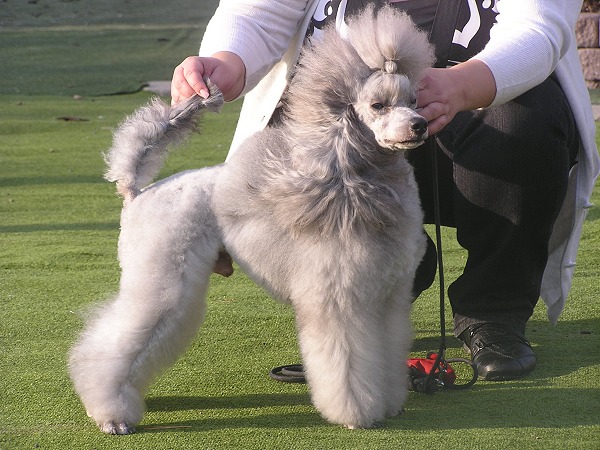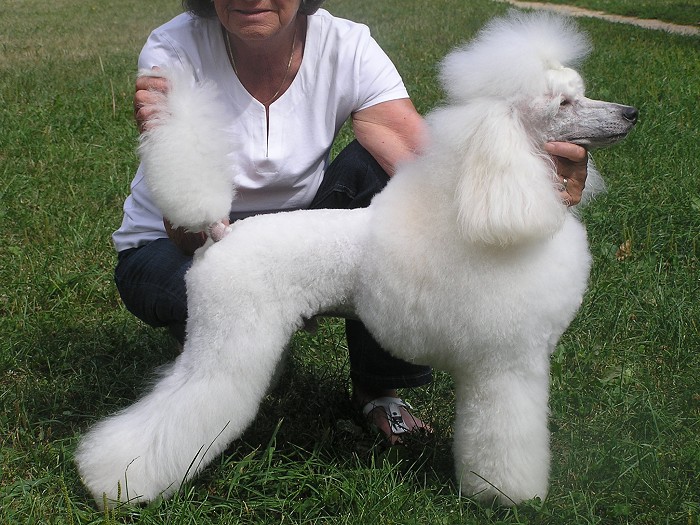 22.7.2012 - VDP Pudelklubschau Zwickau - Tony became VDP Siegerchampion
Judge: Dr. Axel Rudolph from Germany
Tony got his 4th VDP SCA-CAC and therefore became VDP Siegerchampion. Next to this he also got VDH-CAC, BOB, Best standard poodle of the show and BIS 3.
I also handled white poodle Chic Chance Yrtep, owner Zdeňka Hrdličková. It was his debut at german shows and very successfull one! - VDP CAC and VDH CAC.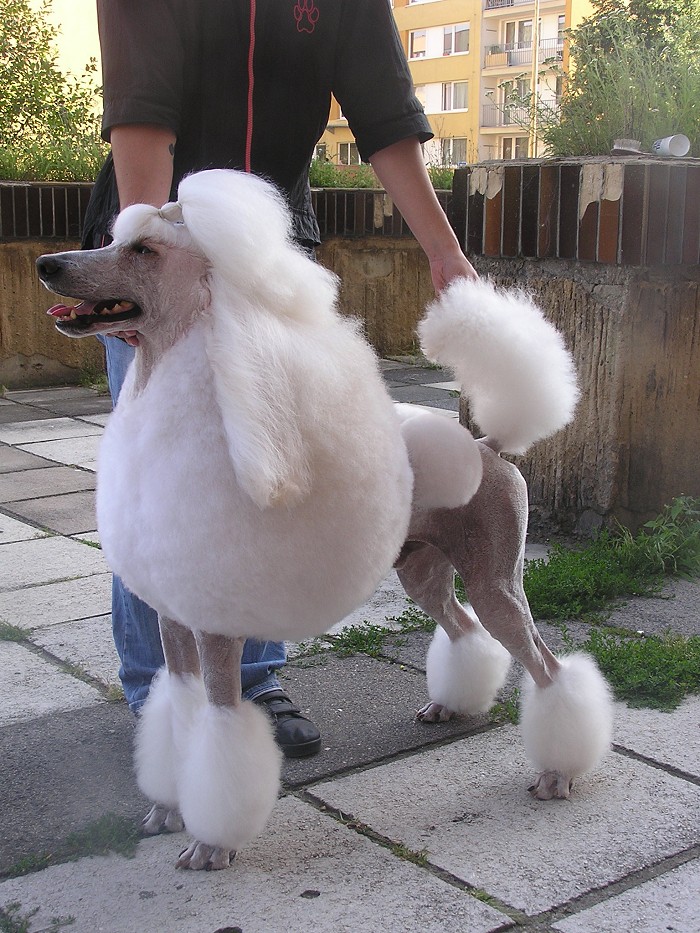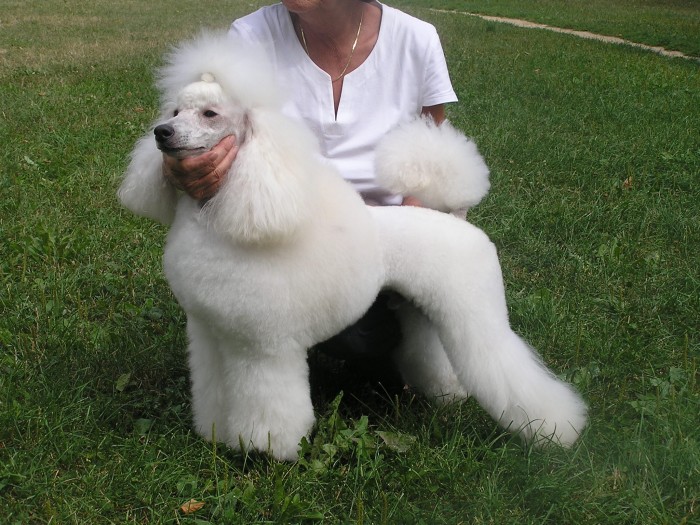 National show Klatovy - 1.7.2012
Judge Mrs. Olga Dolejšová
Tony's son - Antonio Pikovický poklad - CAC, National winner and BOB. Huge congratulation and big thanks to our friend Andrea Farkašovská for perfect handling.
Tony's daughter Alexis Pikovický poklad got CAC.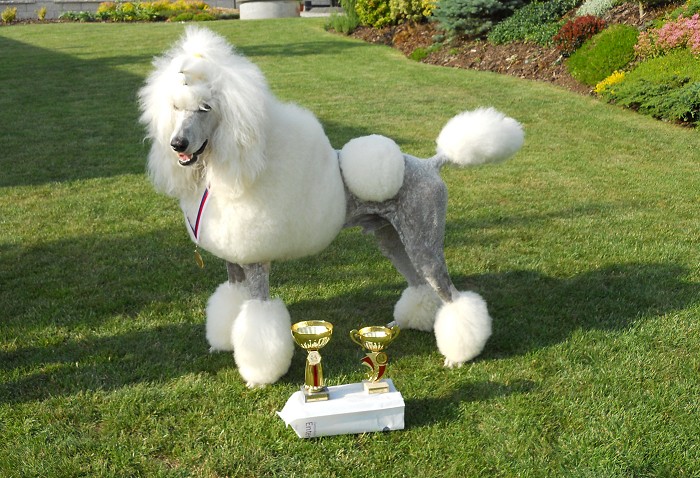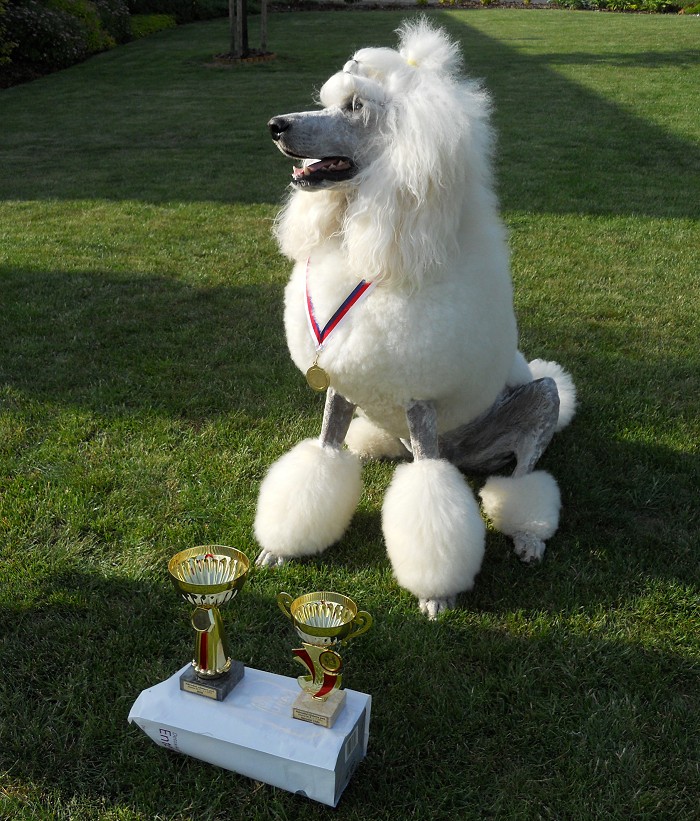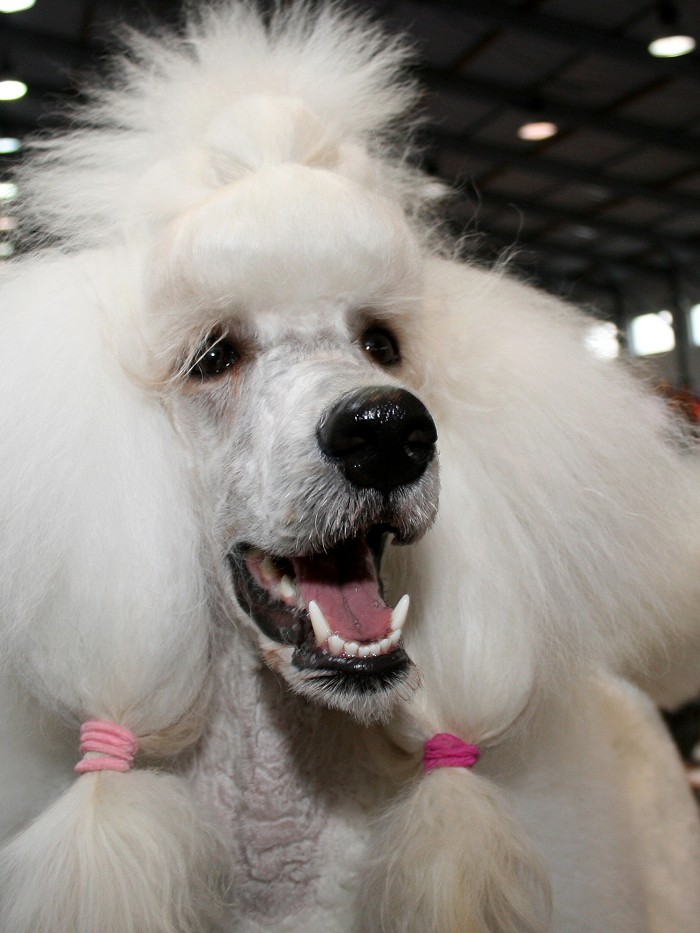 24.6.2012 - International show Brno
Judge Mrs. Ann Ingram from Ireland
CH. Aramis Recatty won open class of numerous entry and got his very first CACIB.
For the first time also Tony's son Armin Bílý poklad was shown and did very well - CAJC and Junior BOB.

23.6.2012 - Club show KCHP
Judge Mrs. Vladimír Javorčík
Tony's son CH.Aramis Recatty recieved following titles - Best Standard male and Best male of the show.
Four of Tony's sons met on the show - Aramis Recatty, Antonio Pikovický poklad and also Armin with Andreas Bílý poklad.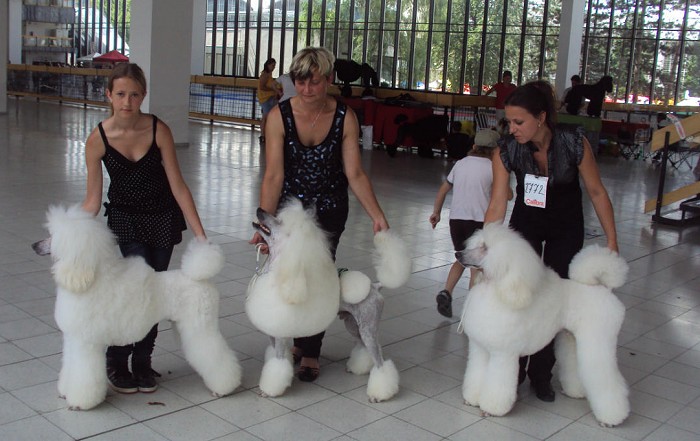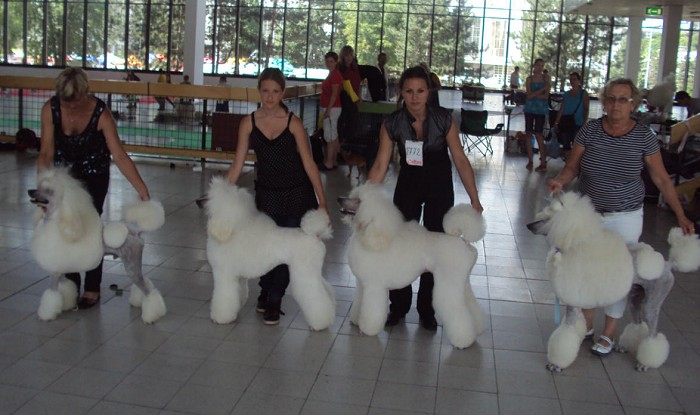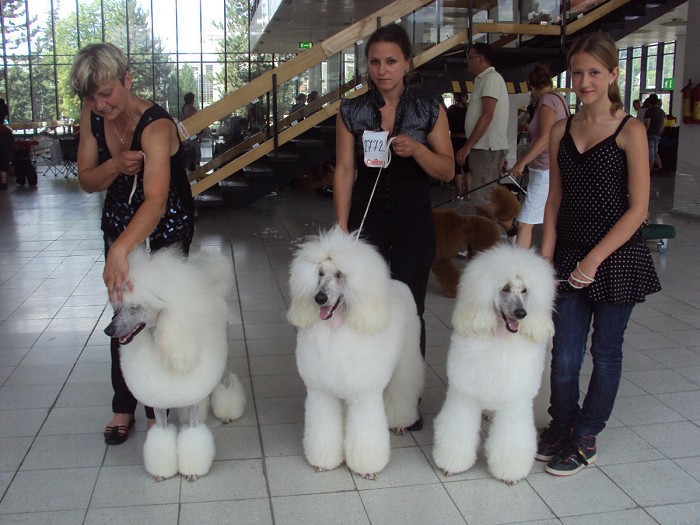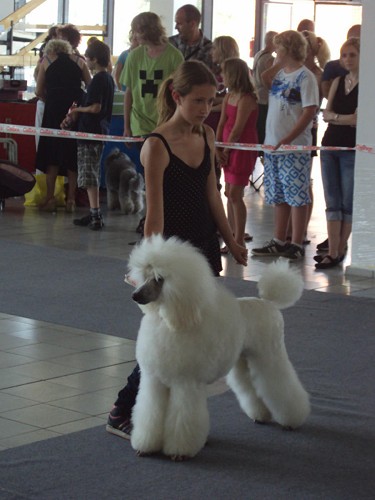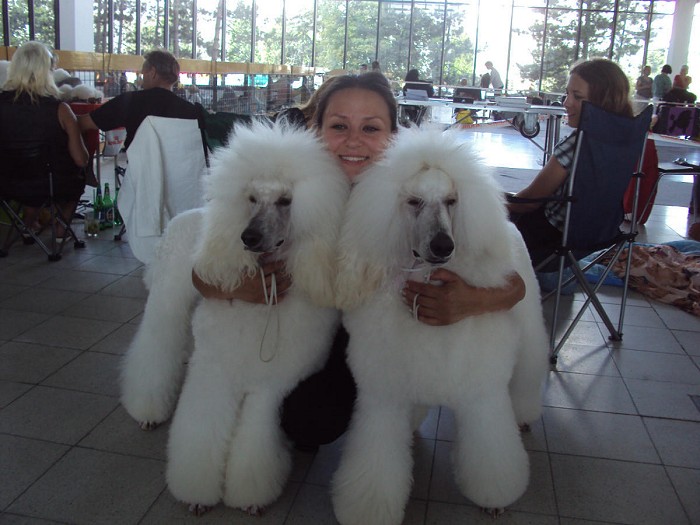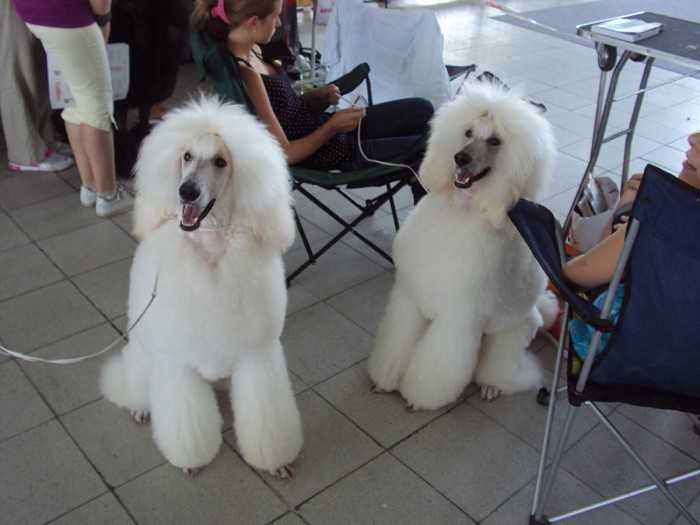 16.6.2012 - Regional show Hradec Králové with Club show of Poodle Club
Judge: Dr. Jaroslava Ovesná / judge for group IX. FCI - Mgr. Božena Ovesná
Tony got following titles - Club CC, BOB, Best standard poodle, BIS of Club show, BIG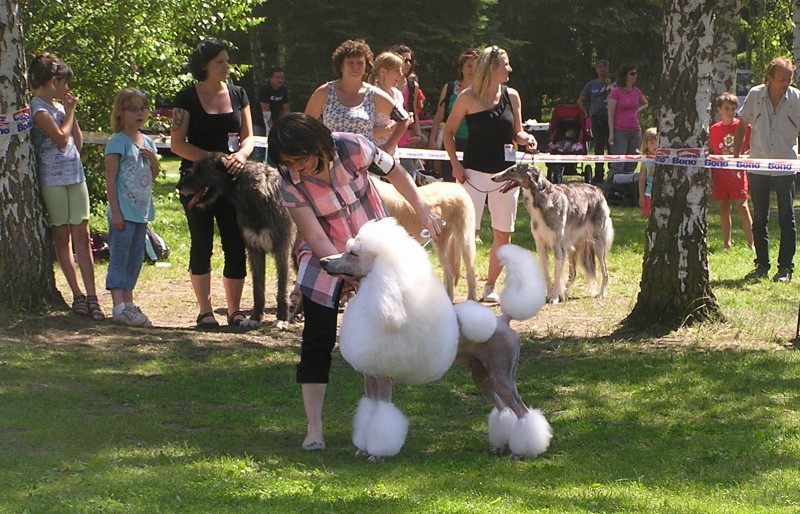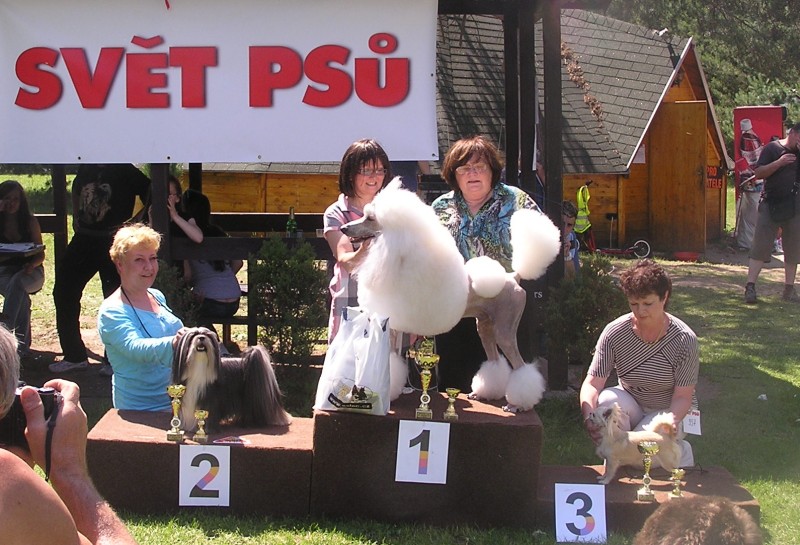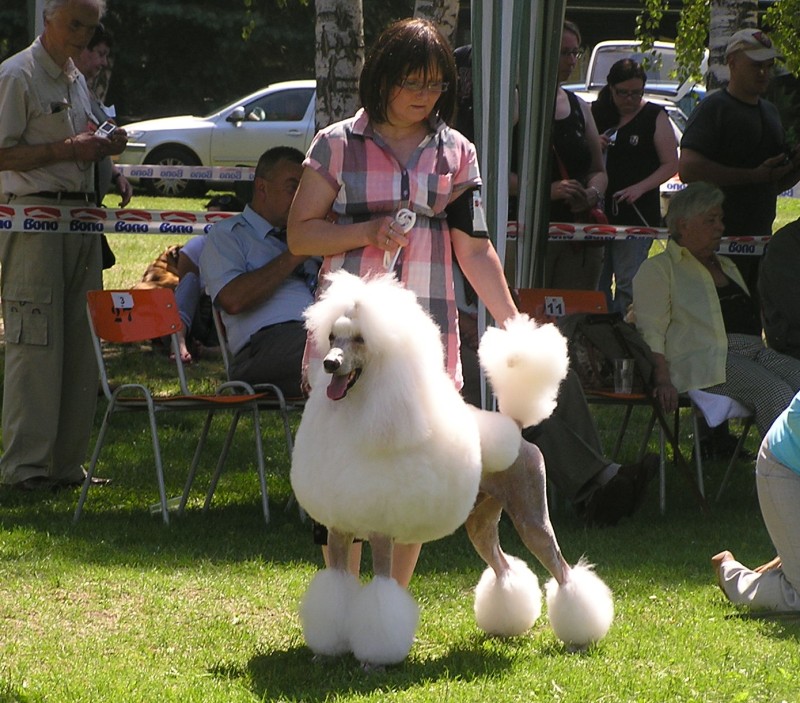 Club show PK Lysá nad Labem
Abar Recatty was shown at this club show. Abar got his last CAC and became Czech Champion, also got his next Club CC and title BOB. Judge was Dr. Jaroslava Ovesná.
Many thanks to all judges and congrats to owners of our dogs!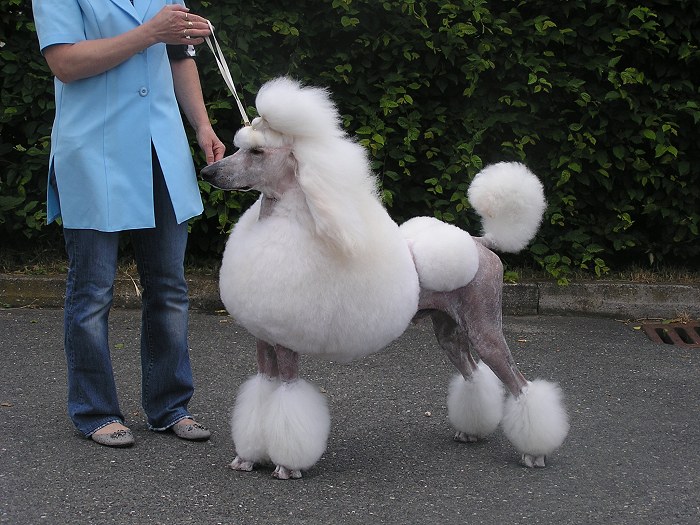 27.5.2012 IDS Litoměřice
Two kids of Tony Abar Recatty and JCH. Aquilera Pikovický poklad succeeded at this show. Both won title CACIB and Aquilera also BOB. Judge was Mgr. Božena Ovesná.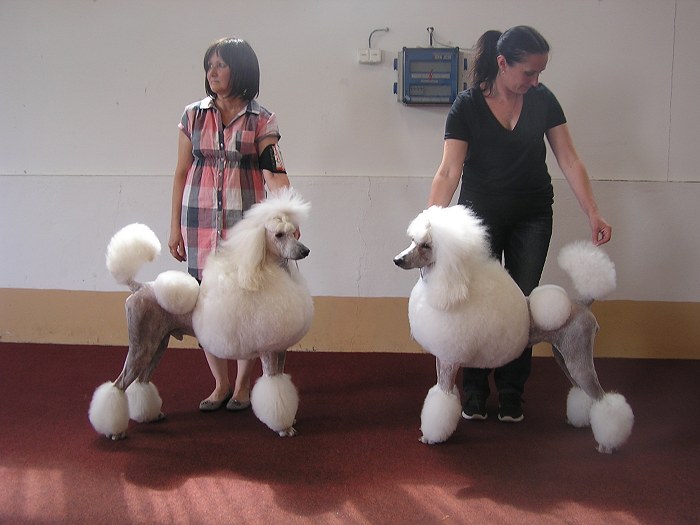 26.5.2012 CS KCHP
Club show of Klub chovatelů pudlů was organised in Brezno. Tony's son CH. Aramis Recatty won Club CC, became Best standard poodle and Best white poodle of the show. Later also best dog and BIS, which was judged by Renata Smyčková.
This Tony's son was also registered as a stud male, second in a row after Arnaldo Pikovický poklad. We are so happy!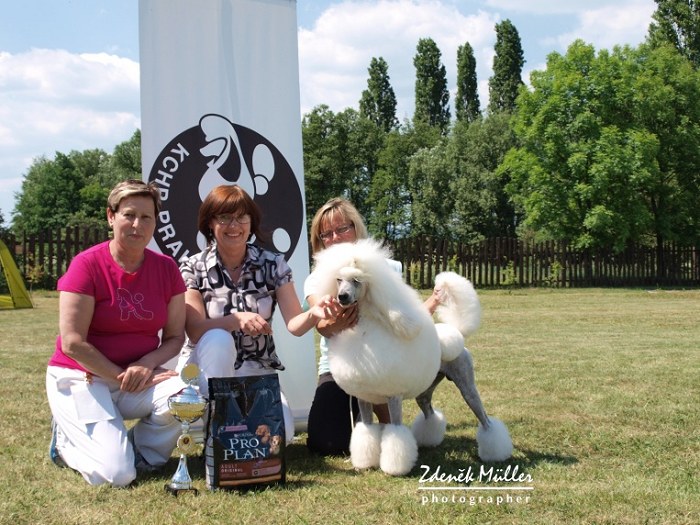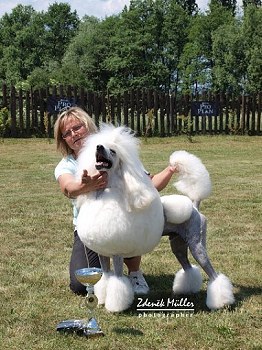 IDS Prague 6.5.2012
Jana together with multicoloured poodle Cantos Brit Harlekin Wild Angel /Charlie/ won CAC and BOB from malaisian judge Weng Woh Chan. In afternoon competitions they were num. 5 in group, judged by Jaroslav Matyáš from Slovakia.
High Style Yrtep /Black/ became new Czech champion in Prague, where he got his last CAC, later he also won res. CACIB. Congratulations to owner Zdeňka Hrdličková and thanks to breeder Petra Kučerová for handling him.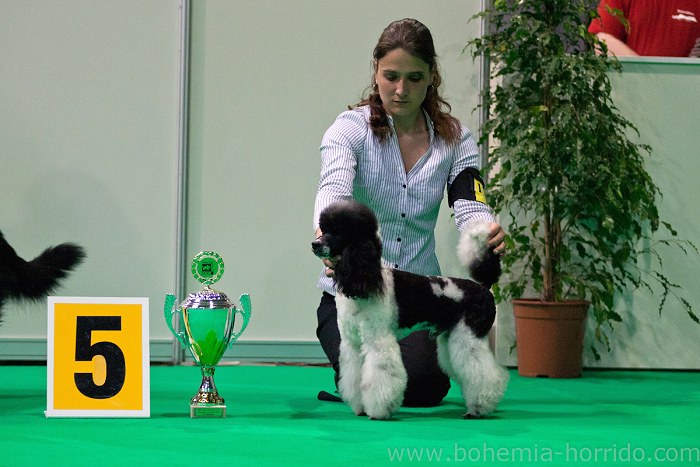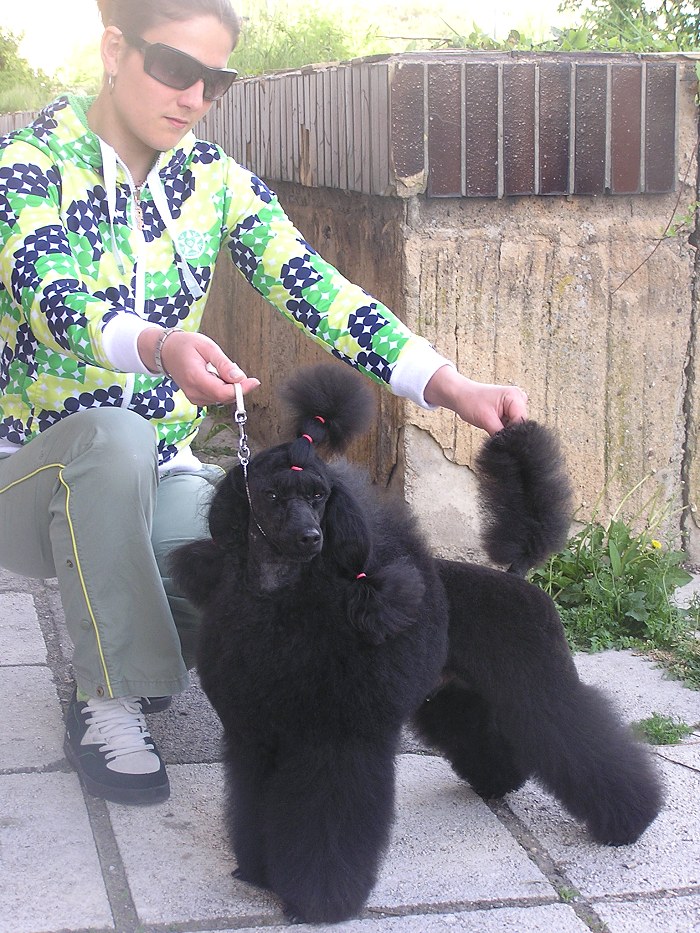 11.5.2012 - Antonio Pikovický Poklad
Tonys son Antonio Pikovický poklad is grown up now, he looks great in continental clip and Tony can wear it very well. We wish him many nice success!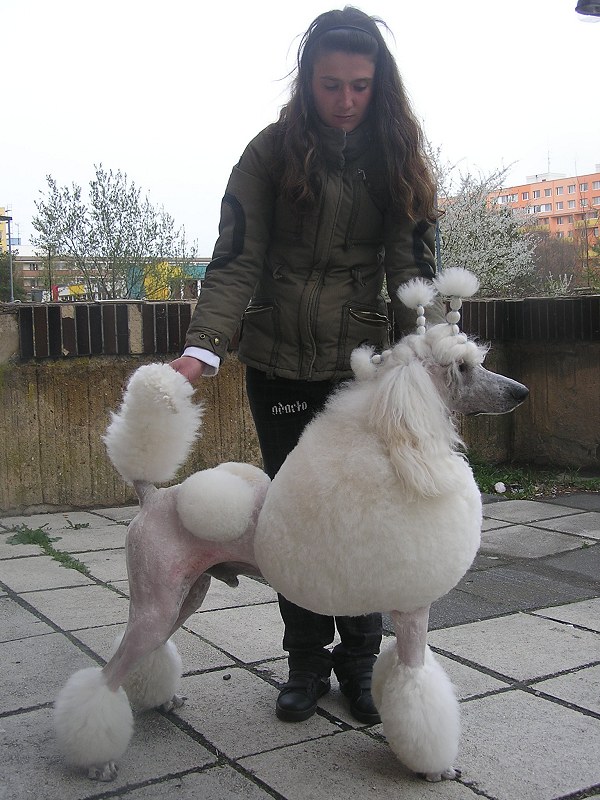 At regional show 12.5.2012 in Pilsen Antonio got title Regional winner form Mrs. Brotankova.
11.5.2012 - Daysy Prague Haley
Black miniature poodle girl Daysy Prague Haley, bred by Zuzana Jelínková from Prague, is already for one year in care of our saloon.
She did really well under lead of her breeder, she cheered us as well as her owner Lenka Jáchymová from Prague. Go on and do even better!
She already gained following titles:
Junior Champion CZ
Junior CHampion KCHP
res. CACIB, 2x CAC CZ, CAC SK, CWC
Best Puppy female at OKV KCHP Libice nad Cidlinou 2011
Best Junior female and BIS 3 OKV KCHP Březno 2011
Best Junior IDS Mladá Boleslav 2011
BIS 2 OKV KCHP Jankov u Českých Budějovic 2011
Best miniature female OKV KCHP Libice nad Cidlinou 2012
CAC CZ and National winner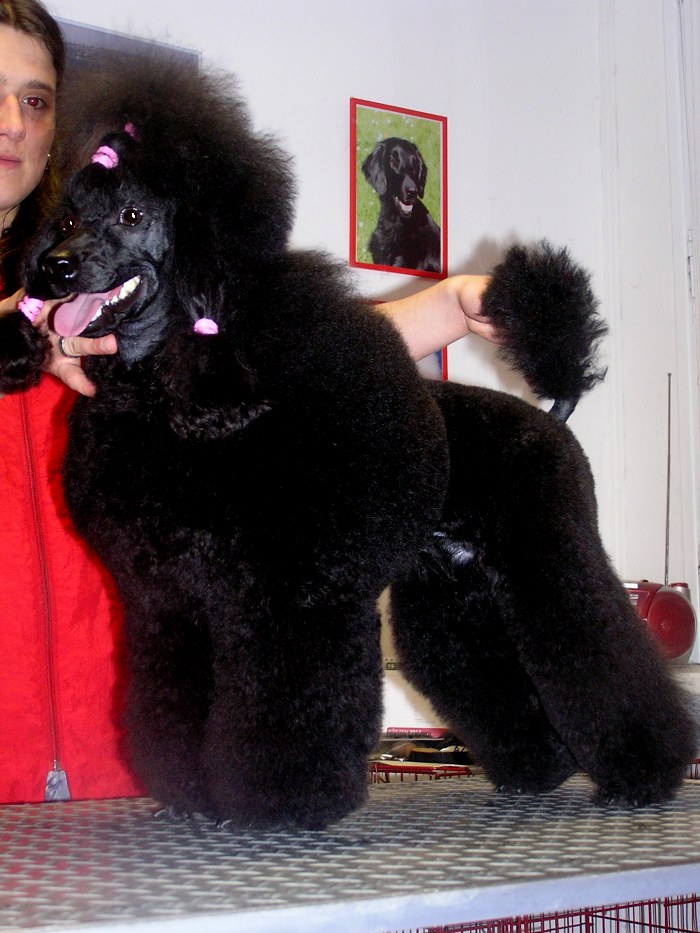 7.4.2012 - ZOP tests
On 7.4.2012 Tonys daughter Aquilera Pikovický Poklad successfully passed test of ZOP, she got 95 points.
Handled by her owner and trainer Zuzana Wohlmuthová was even more successful than her mother Annabel.
Keep on the great work and congratulations!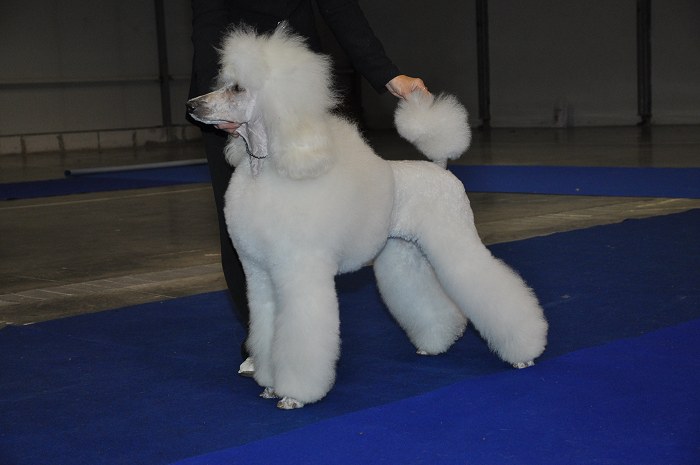 6.4.2012 - Visit of Tonys sons
On friday 6.4.2012 two sons of Tony came to our place - Armin and Andreas Bílý poklad together with their nice owner Olga Ježková from Brno. We took a few shots after grooming. Both boys grew up into nice dogs filled up with temperament.
We wish them many nice experience and good start at shows. Thanks to their owner for love and care!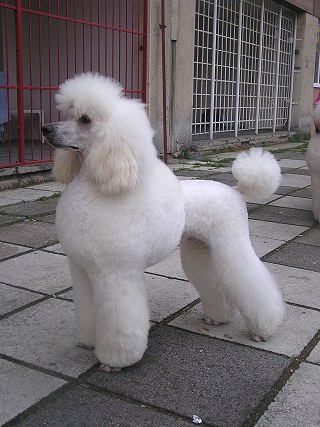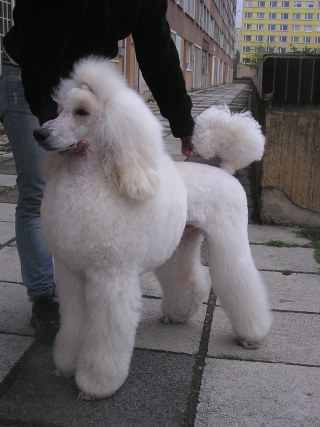 Visit of Agnesie Bilý Poklad
In April Tony's daughter Agnesie Bílý poklad came to visit our salon together with her owner from Stuttgart.
We were really glad to meet then again and Aga was posing after grooming. She grew up into nice poodle miss and she has great care of her owner.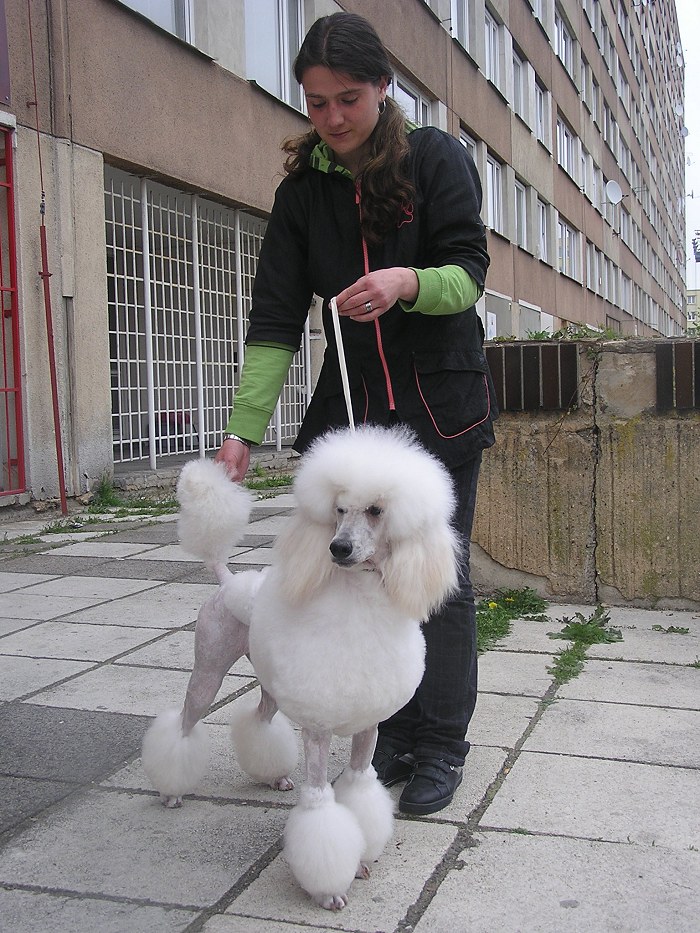 Club show KPaCHP 11.3.2012, Prague - Na Svornosti
Judge: Mrs. Alena Košťálová
Tonys daughter Agnesie Bílý poklad was shown for her very first time with great success. She got excellent and her very first Club Junior CC.
Show was very successful also for her dam, Amanda Royal Team, who got Club CC, title for Best standard poodle female and also became The best female of the show. Congrats to both! Thanks to Denisa Trnková for handling.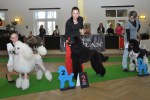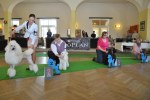 IDS České Budějovice 1.4.2012
Tonys son Abar Recatty got his next CAC and also resCACIB from austrian judge Karin Bernardis.
We are so happy that he is enjoying his time in the ring and shows his temperament.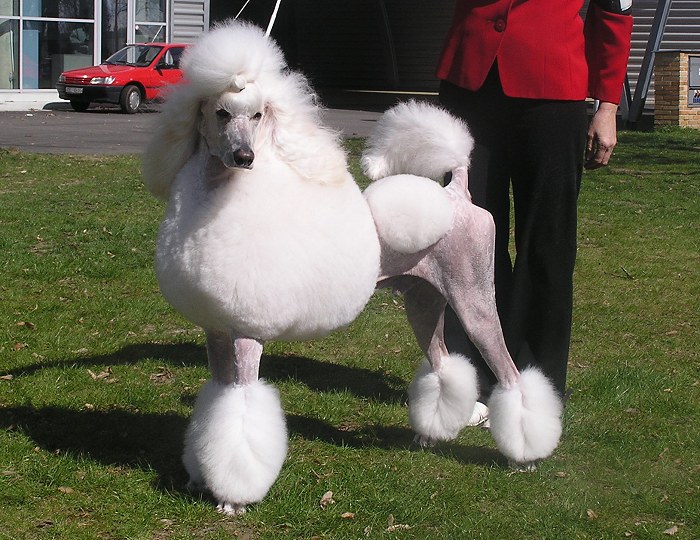 VDP Pudelzuchtschau Hoyerswerda Laubusch dne 25.3.2012
Tony spread out his collection of titles with next BIS.
He got following titles at VDP club show: VDH-CAC, SCA-CAC, BOB, The best standard poodle, Best dog of the show and in the end also Best in Show. Judge was Mr. Wolfgang Schneider from Germany.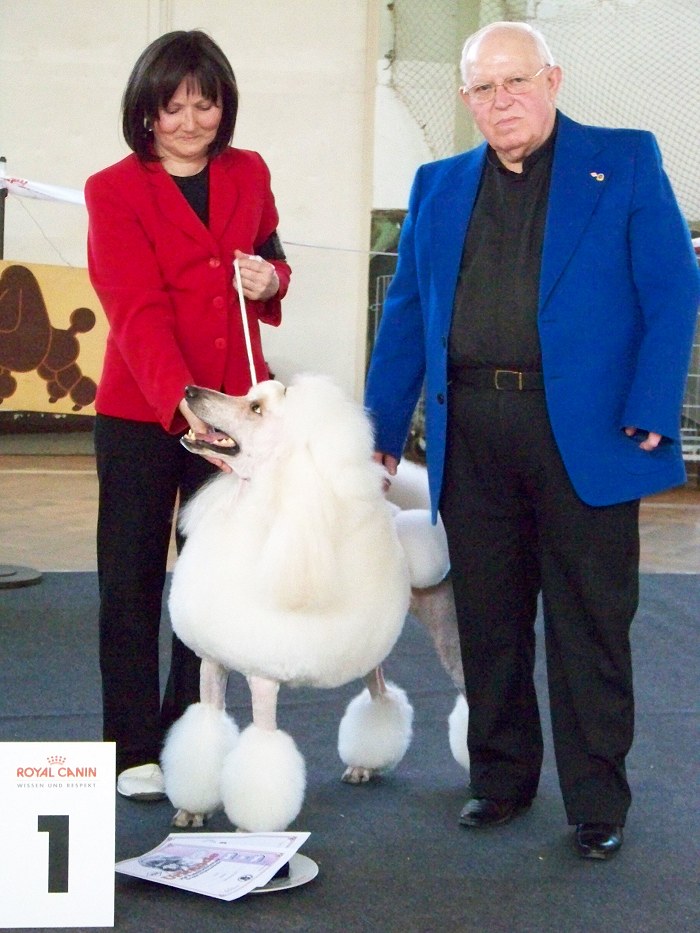 19.2.2012 - Club show KPaCHP Prague
At club show of KPaCHP, 19.2.2012 in Prague - Stodůlky, Villy Adia Avi met conditions of Club Champion and became 2nd Best miniature male at show, handled by my daughter Jana.
Congratulations to Villy's owners and many thanks to Jana for her work.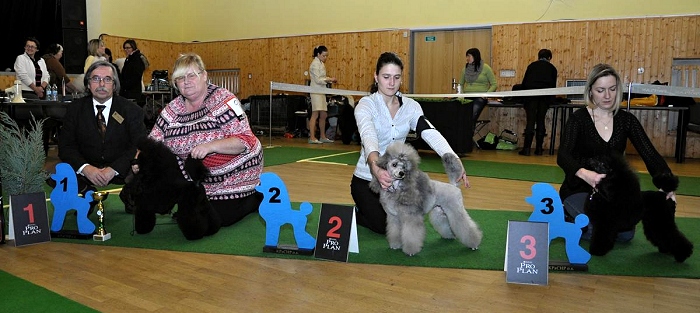 5.2.2012 - First of Tony's children has become Czech Champion.
Son Aramis Recatty got the title at interntional dog show in Brno 5.2.2012. Congratulation to the owner and we wish her a lot of success in the future.