2022 / 2019 / 2018 / 2017 / 2016 / 2015 / 2014 / 2013 / 2012 / 2011 / 2010
Many thanks to all judgs for their kind approach,
nice judgements and given titles to all of our dogs and descendants.



Photos of Attila's children.
6.10.2018 Tony's grandchildren were born
On 6th October 2018 grandchildren of our Tony were born in Poland in kennel Kalcytowy Zakatek by Jasenak Dressed in Black and Kalcytowy Zakatek Gold Bianka.
7.9.2018 First puppies by our Otík were born in Austria.
Dam of the litter is Honoris Causa Viva Forever.
5 puppies were born - 1 girl and 4 boys.
Club show KPaCHP - Konopiště - 9.9.2018
Judge: Petra Ulrichová Plisková
Tony, who was shown in veteran class, met his two offsprings. Son Cairo got his breeding licence.

Results:
Cairo Sance de mol - CAC
Afrodithé Royal White Magic - Exc. 2
Tony White Envisan - The best veteran dog in show
Multicoloured black and white poodle Hakim Tiny Harlekin Wild Angel (own. Sirovatkova), which I groomed, was awarded for the best modern clip of the show.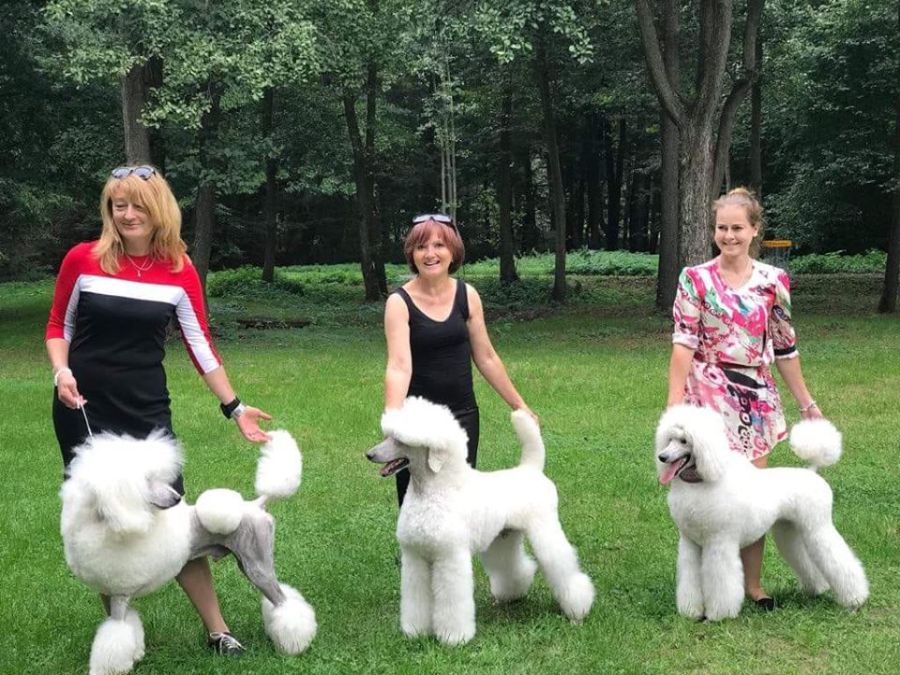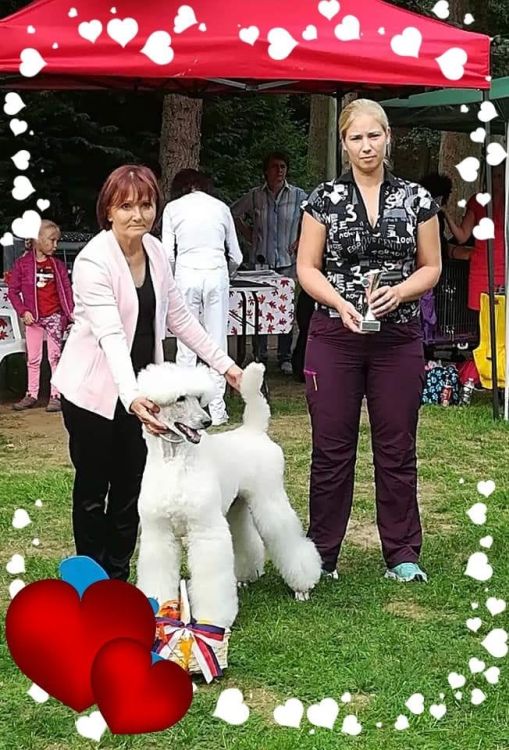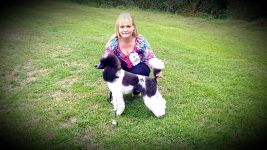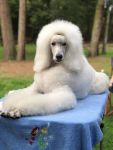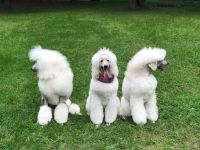 The best modern clip | Afrodita | Afrodita in the middle, on the left brother Cairo, on the right father Tony
28.7.2018 Puppies were born in kennel Forever King by our Alzbeta
On 28th July 2018 puppies were born in kennel Forever King by our Alzbeta AV Pes - sister of our Otík. Sire is white poodle Vätten´s Shinning All Over.
National show Klatovy - 1.7.2018
Judge: Ing.Leoš Jančík
This time we met a lot of relatives - 3 of Tony's sons from kennels Sance de mol, Pikovický poklad and AV Pes, daughter from kennel Royal White Magic and 2 grandchildren from kennel Pikovický poklad were shown.
Proud sire and grandsire Tony was there as well.

Results:
JCH.Cairo Sance de mol - CAC and 2nd place in junior handling with Anna Novákova
Afrodithé Royal White Magic - CAJC, BOJ and shortlisted in the finals
C.I.B.Antonio Pikovický poklad - BOV and BOB
C.I.B.Attila AV Pes - CAC, National winner
Coudy Pikovický poklad - VP 1
Conni Pikovický poklad - VP 1, shortlisted in the finals
Huge thanks to Andrea Farkašovská for showing our Otík.
29.1.2018 Aquillera has puppies
On 29th January 2018 Aquillera Pikovický poklad, daughter of our Annabel and Tony gave birth to 6 puppies - 2 boys and 4 girls. Sire of the puppies is Wynonna ´s V.I.P. Diesel Only the Brave. All puppies have already their new homes, many of them went to breeders and Clary stayed with her mum, grandmum and breeder. Conni lives with her uncle Antonio Pikovický poklad.
6th January 2018 - New year's poodle show KPaCHP.
Judged by Zuzana Vršecká Větvinská.

This time we had many poodle friends with us and enjoyed the day very much.
We had fabulous results in the ring:

CH. Horátio Top Narcis owned by Kacka Slezakova got his 3rd CC KPaCHP and became the best miniature poodle and also 3rd best dog of the show. So far it is his best result at club show.

Daughter of our Tony Afrodithé Royal White Magic was very promising 1st, got puppy CC and became the best puppy female in show. In my opponion she is getting used to shows very well and presents herself very nice for her age.

Multicoloured miniature bitch Chanell z Delurin Benito owned by Renata Zizova got CC KPaCHP and became 2nd best multicoloured poodle in show . She also went to competition for the best modern grooming and won! I am so happy for her.

Our Attila got 3rd CC of champions KPaCHP and became 2nd best standard poodle of the show.. He enjoyed the whole show as much as usually.

Congratulations to all and thank you for the wonderful day spent at the first club show of this year.