2022 / 2019 / 2018 / 2017 / 2016 / 2015 / 2014 / 2013 / 2012 / 2011 / 2010
Many thanks to all judgs for their kind approach,
nice judgements and given titles to all of our dogs and descendants.



Our three white boys collected 7 Championateships during 2015:
C.I.B. Multich. Tony White Envisan
VDP Ehrenchampion, Czech Veteran Champion, Veteran Champion KPaCHP

CH. Attila AV Pes
VDP Jugend - Champion, Czech Champion, Czech Grandchampion

CH. Abar Recatty
Club Champion KPaCHP

Advent show KPaCHP - Prague 13.12.2015
judge - Ing. Alena Košálová
Show had great pre Christmas atmosphere and rich raffle, in which we did very well. We shown three poodles with following results:
CH. Abar Recatty - gor his full qualification for Club Champion and became 2nd Best standard poodle of the show
CH. Chic Chance Yrtep - got Club CC and in huge competition also 4th place as The Best Medium Poodle and also 2nd place with his modern clip.
Horácio Top Narcis - was shown for the very first time and got Exc. 2nd and very nice critique

Many thanks to my daughter Jana for showing Chany and Horácio. Also than you to Horacio's owner Katka Slezakova and daughter Jana for the great day with our pets.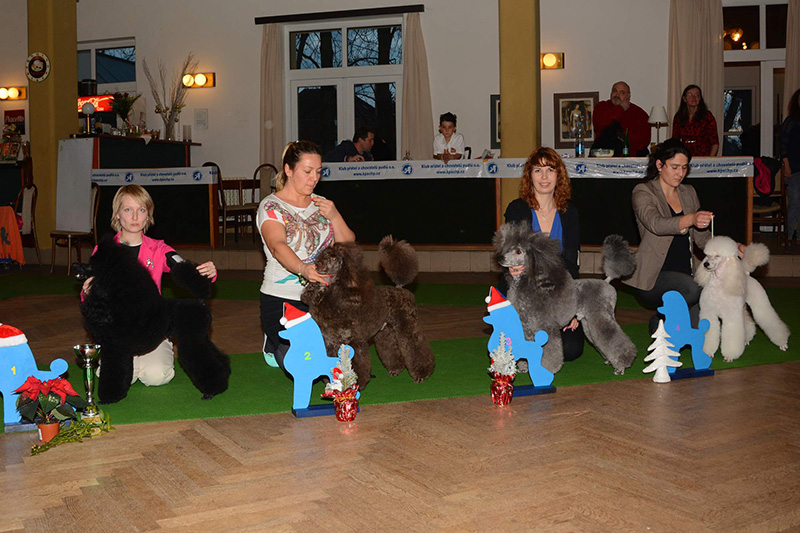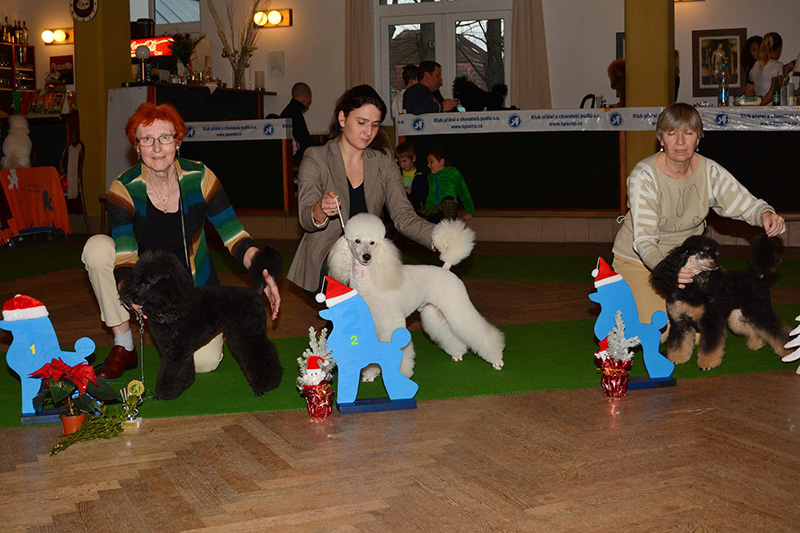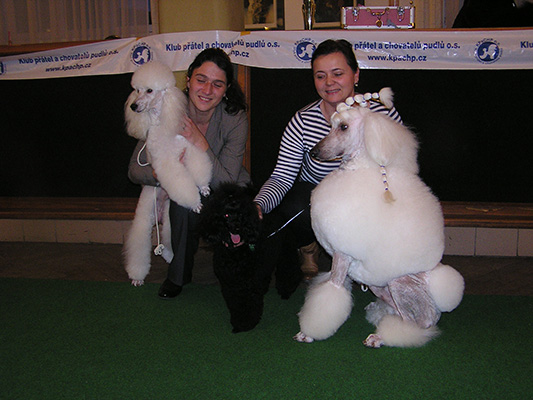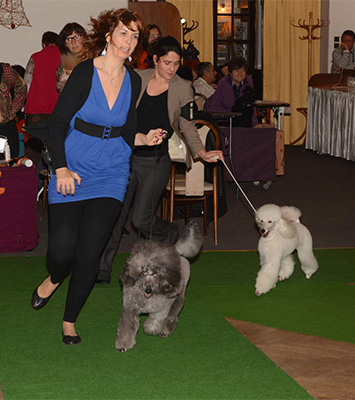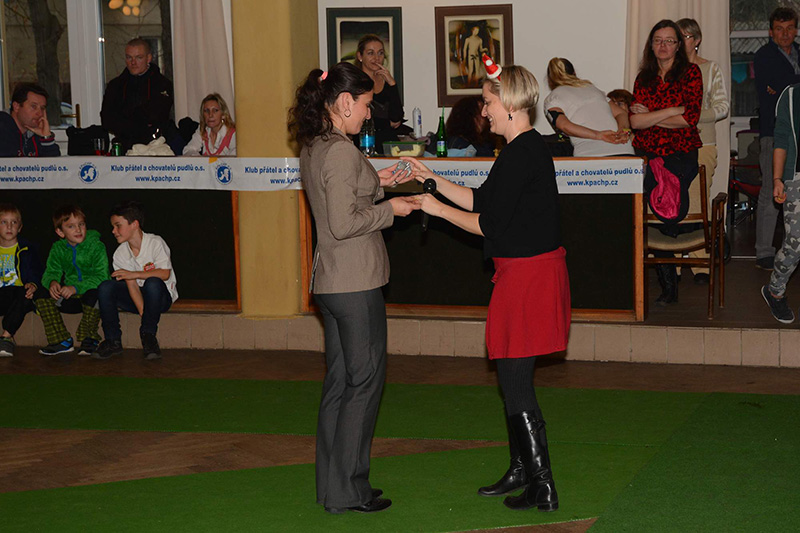 Club show PK - Kněževes 17.10.2015
Judge - Mgr. Sabina Chiesa-Folbrecht /A/BG/
Tony - veteran class - Club CC, BOV, The Best veteran dog of the show
Attila - winners class - CAC, Club CC, BOS, Club winner 2015, The Best dog of the show
now qualified for Czech Grandchampion title

Many thanks to my daughter Jana for handling and company.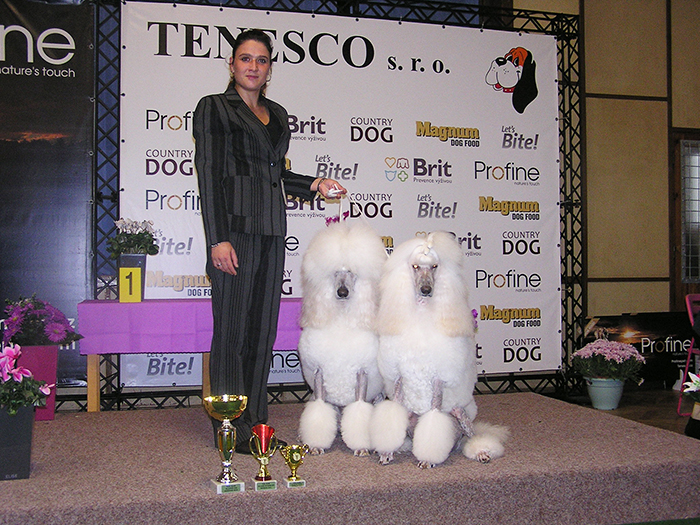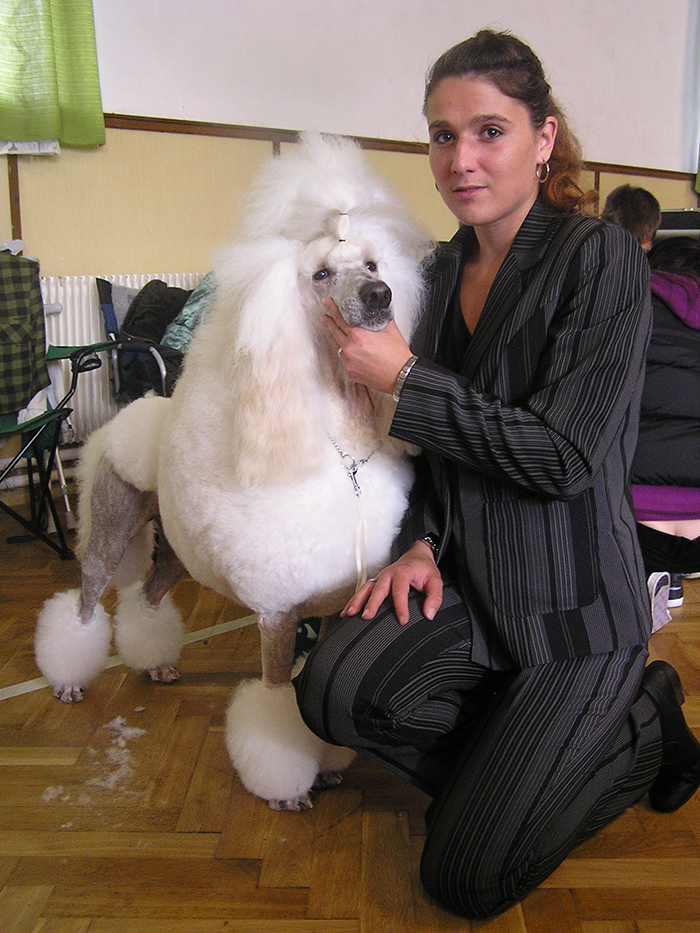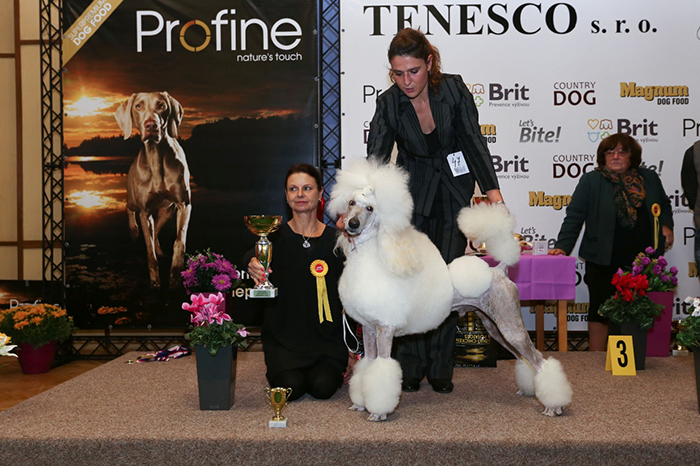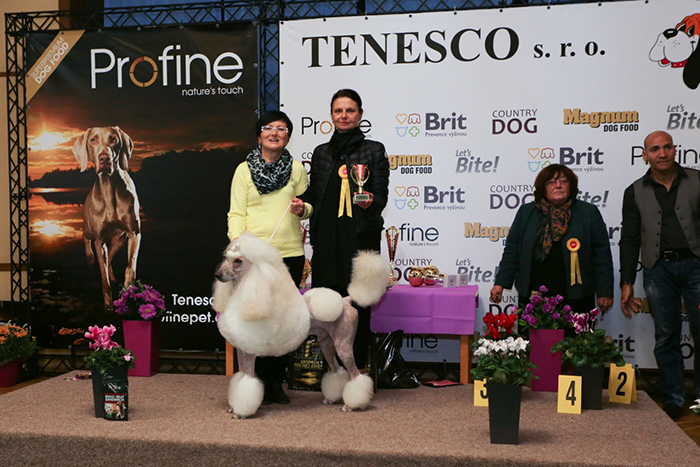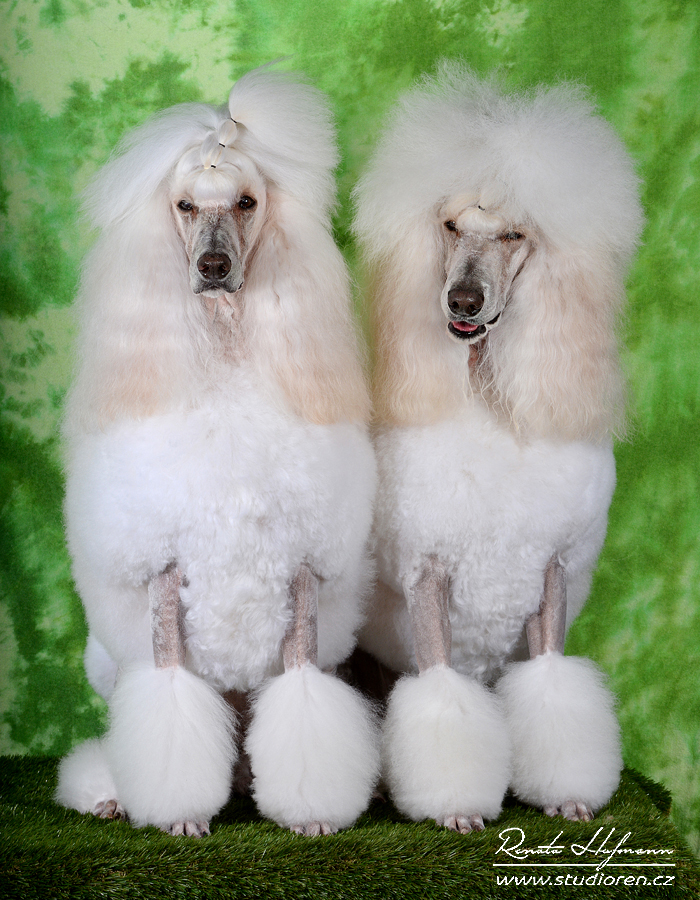 6.9.2015 - Club show KPaCHP - Konopiště
Judge - Lene Kildeborg Jakobsen - Denmark
This time only Toník was shown and he was enjoying it as always.
He is now qualified for his next club champion title - veteran and he also became The Best veteran in show.
Tony has the whole colelction of KPaCHP Club's champions.
We has awarded:
Puppy Champion
Junior Champion
Club Champion
Champion of Champions
Honour Champion
Veteran Champion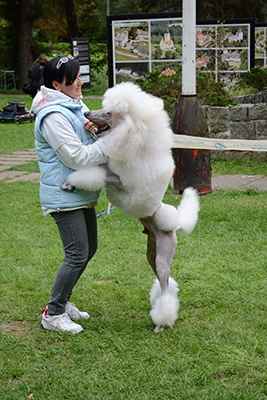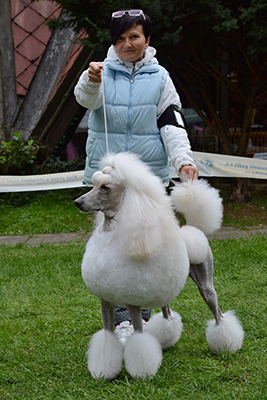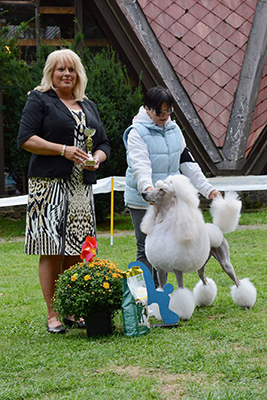 30.8.2015 - International dog show Mladá Boleslav
Judge - Mgr. Božena Ovesná
Attila - CAC, CACIB, BOB, BIG 2, Cruft´s 2016 qualification - handler Jitka Svobodová
Tony - Junior Handling 2nd cathegory - handler Kateřina Navrátilíková - 2nd place
Thank you to both handlers for their company and for the fantastic results as well.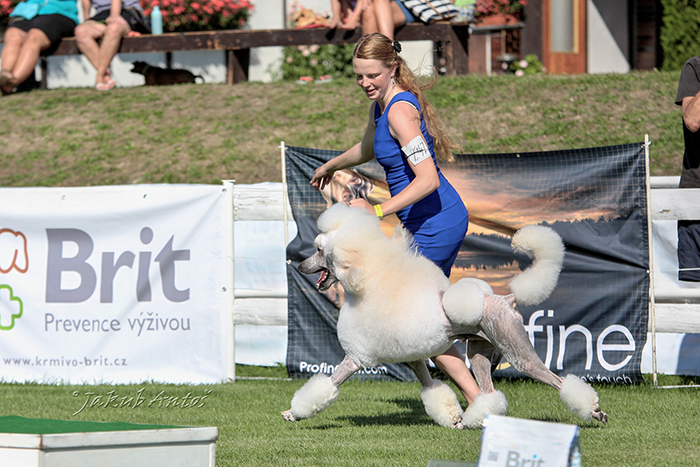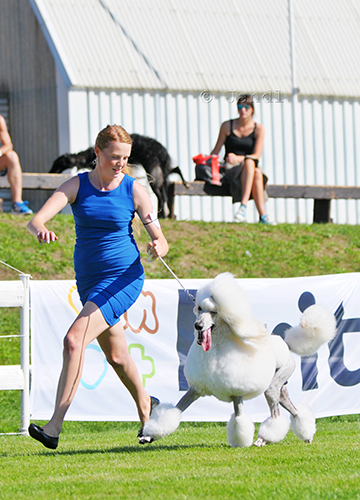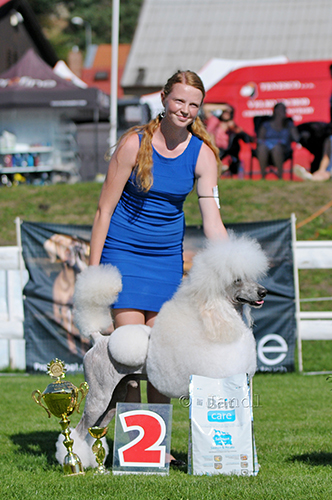 Attila and Jitka Svobodová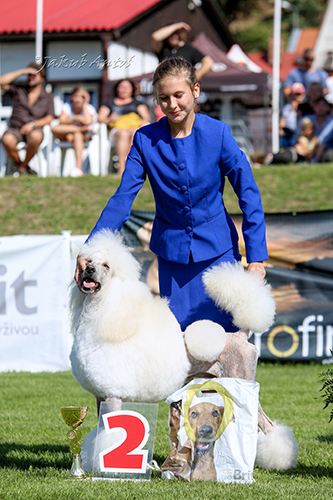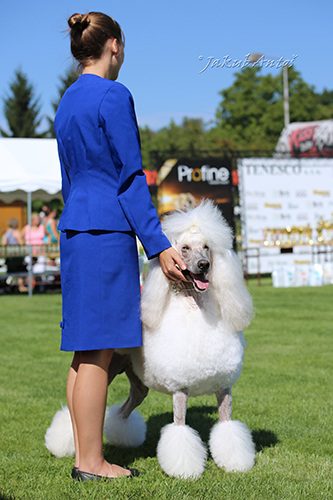 Tony and Kateřina Navrátilíková
8.8.2015 - Specialty show Pudl klub - Kladno
Judge - Larisa Postolova - Rusko
Attila got his first CAC for Grandchampion CZ title. Many thanks to my daughter Jana for handling.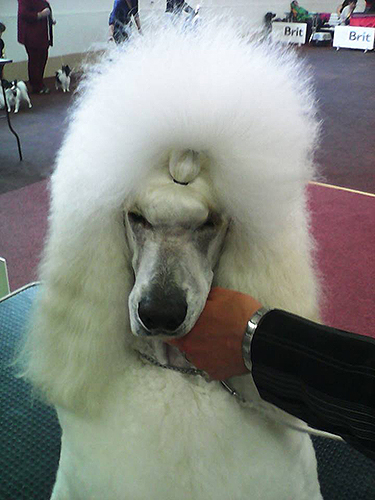 20.6.2015 - National show - Erfurt - Germany
Judge - Wolfgang Schneider - Germany
Attila - VDP-CAC, VDH- res.CAC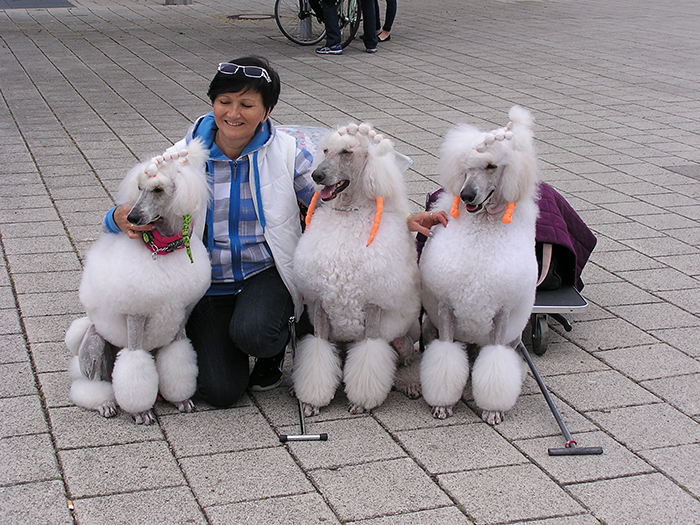 Otík with dad and friend Bondie Hanky Pikovický poklad


6.6.2015 - Club show VDP - Schkopau / Merseburg / - Germany
Judge - Maciej Kozber - Poland
Tony and both of hid childen had very succesful show, especially Alžběta had a great day. Tony - The Best vetean male, Veteran BOB
Attila - VDP-CAC, VDH-CAC, The Best standard male
Alžběta - sister of our Attila - VDP-CAC, VDH-CAC, BOB, BISS 3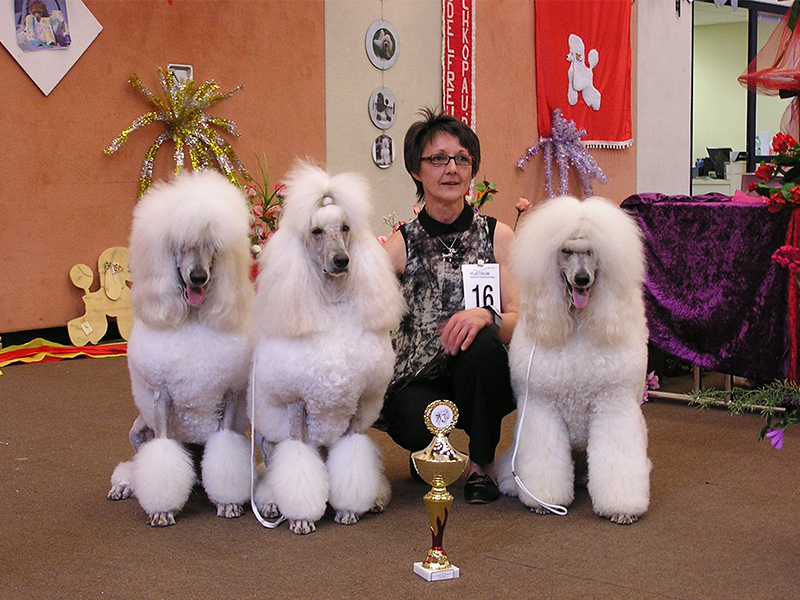 Tony with his children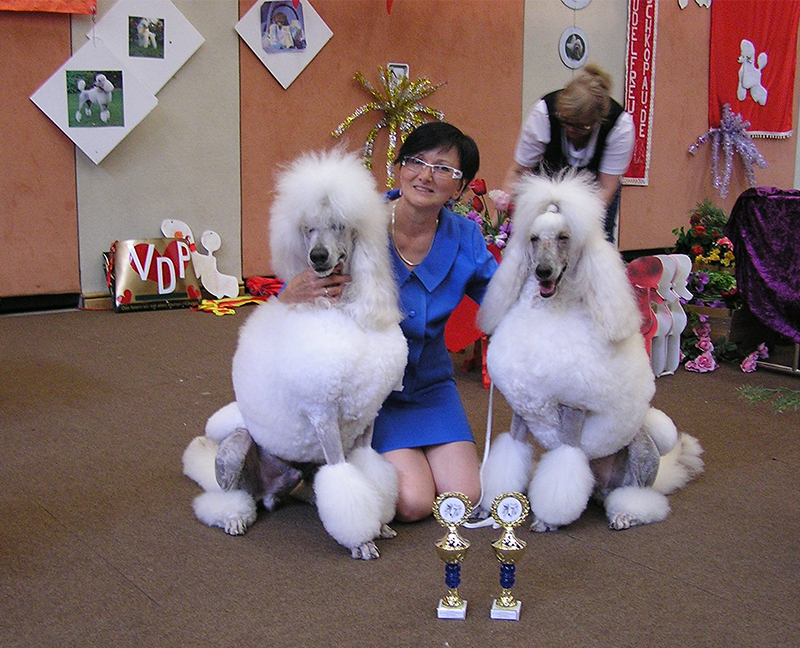 Boys in Merseburg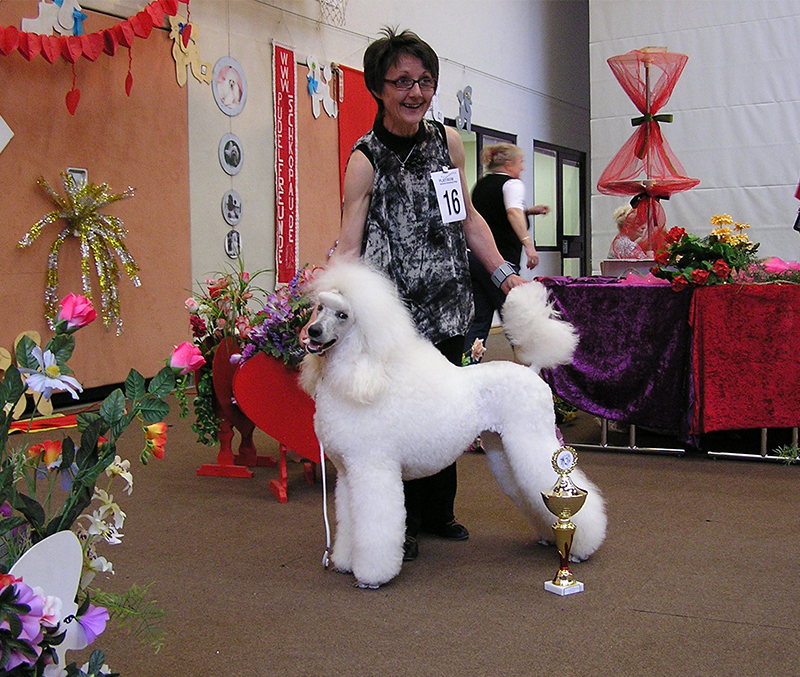 Alžběta

Our boys got their championat diplomas, this time czech. We are very happy!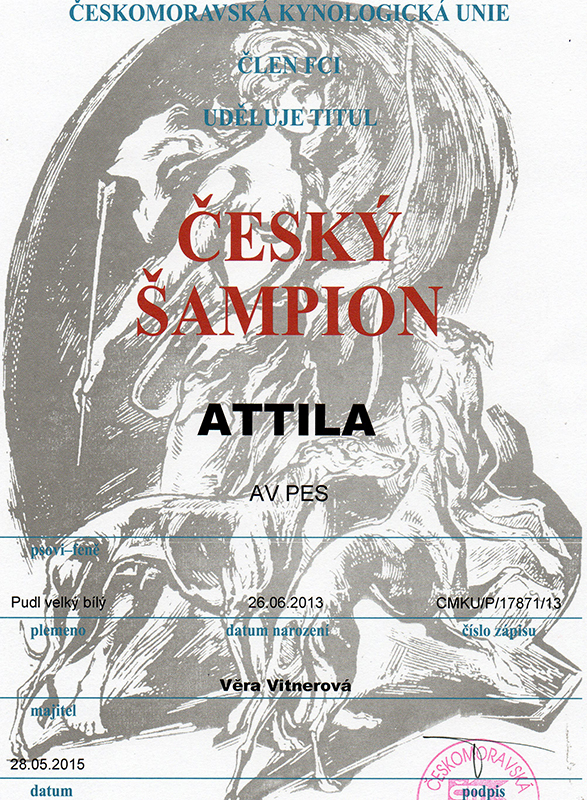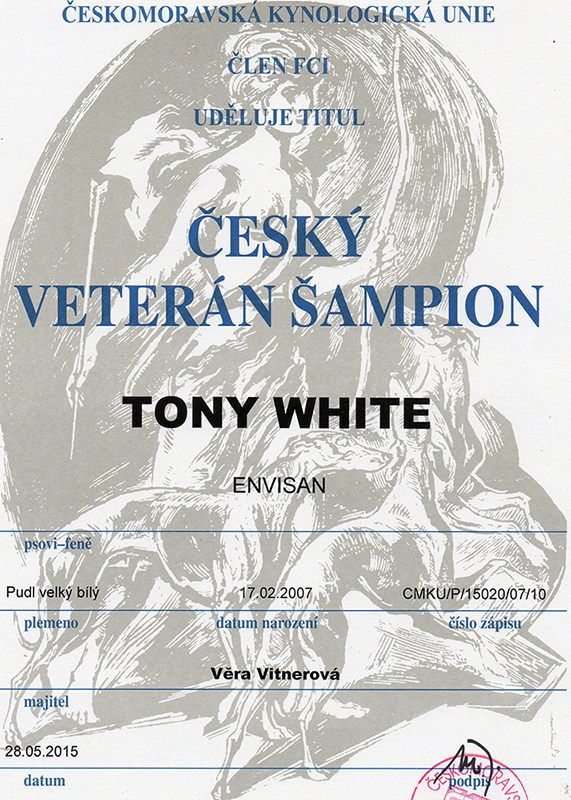 IDS Litoměřice - 24.5.2015
judge: doc. J. Ovesná, CSc., A. Polgár, J. Korosz - Papp
This show was a "BIG DAY FOR TONY"

We appreciate that he managed to get title BEST OF BREED out of veteran class in age of 8 years!!! Son Attila completed champion and daughter Alžběta from Germany got her first CACIB.

Tony - BOV, BOB, The best veteran of the day, new Czech Veteran Chmpion
1st place in Junior Handling with wonderful Kateřina Navrátilíková

Attila - CAC, res. CACIB, new Czech Champion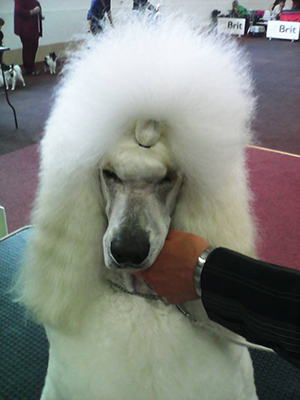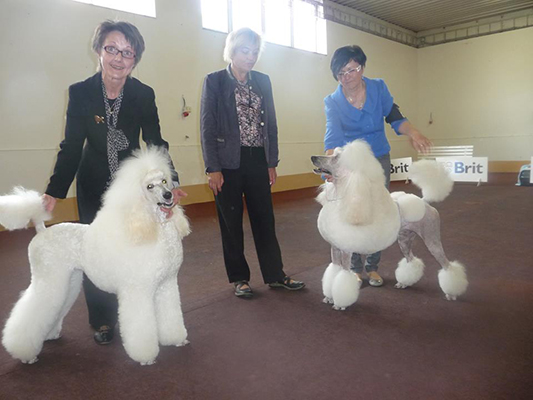 Attila / Tony with daughter Alžběta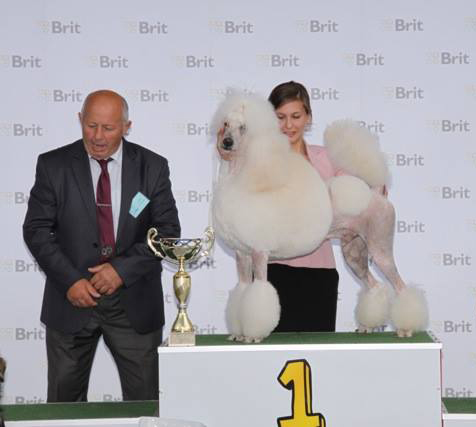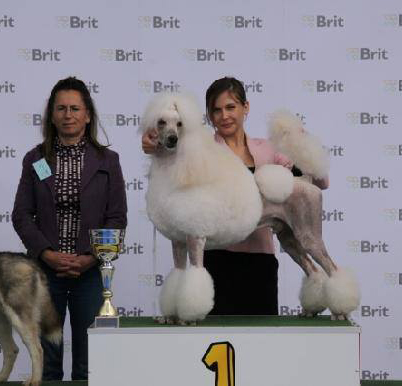 Tony - Junior handling and The best veteran of the day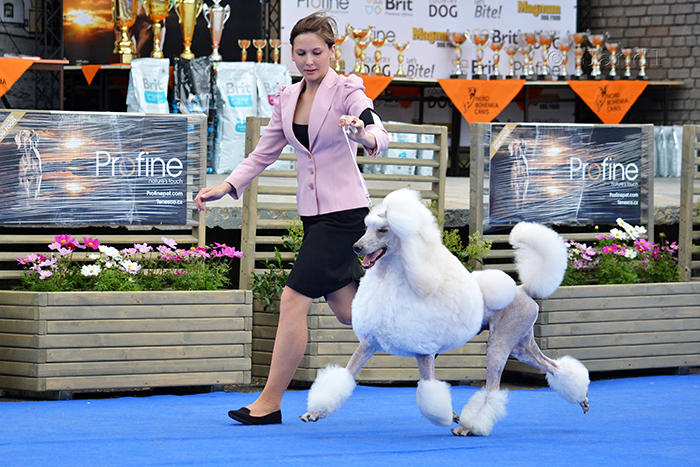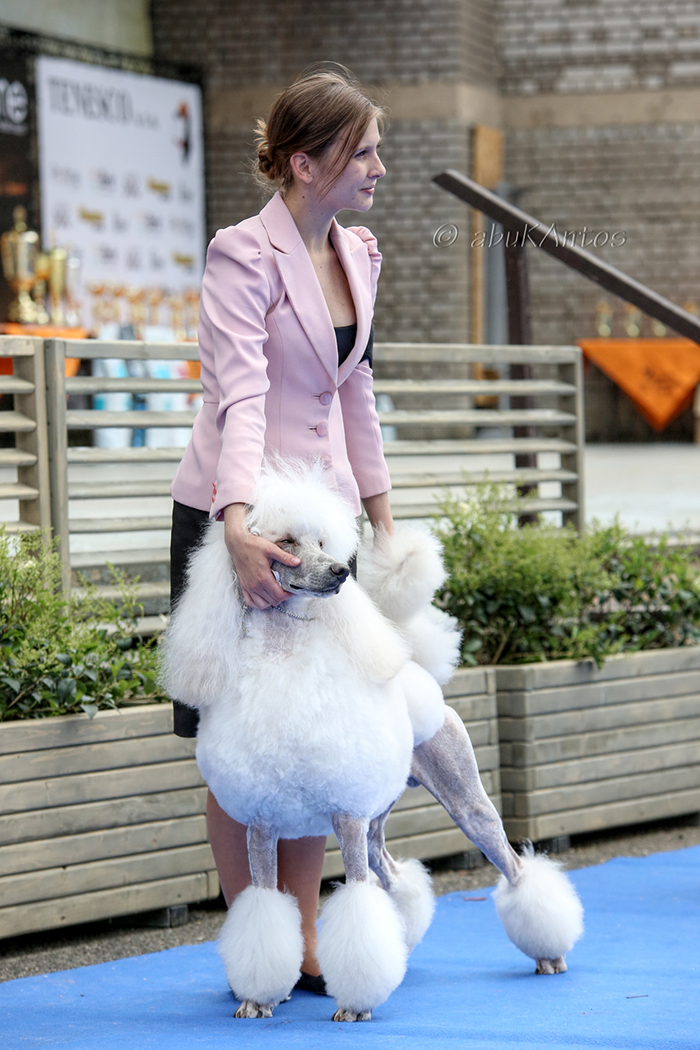 Tony - Junior handling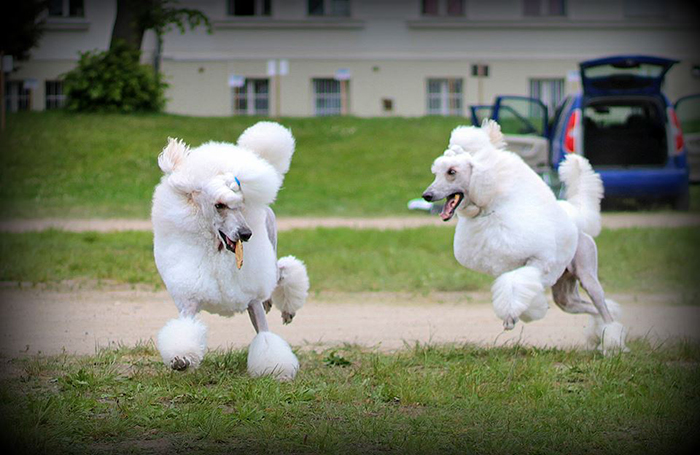 After show...
IDS Praha - 3.5.2015
judge: Zuzana Vršecká
Tony - BOV, short listed in afternoon competition for The Best veteran in show together with Kateřina Navrátilíková
Attila - CAC, res. CACIB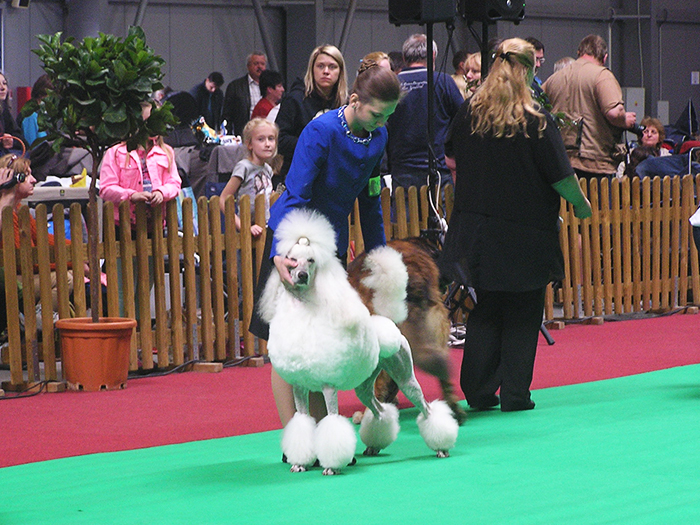 Tony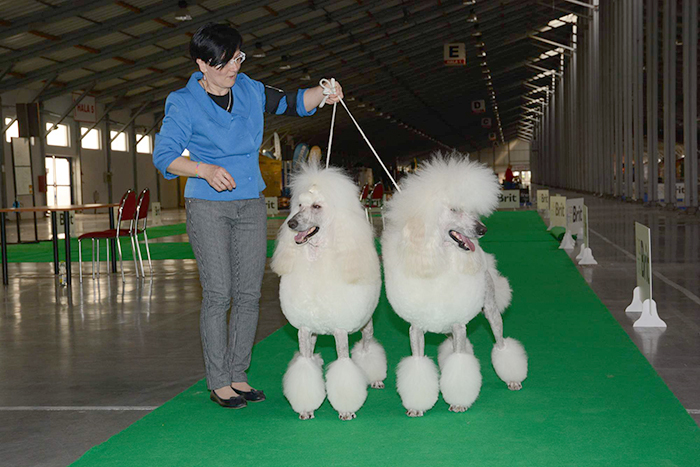 Club show KPaCHP Praha - 2.5.2015
judge: Wolfgang Schneider - Germany
Tony - VKCH, the Best veteran of the club show
Attila - ČKCH, CAC, Club winner, the Best standard male, The best male, BISS 3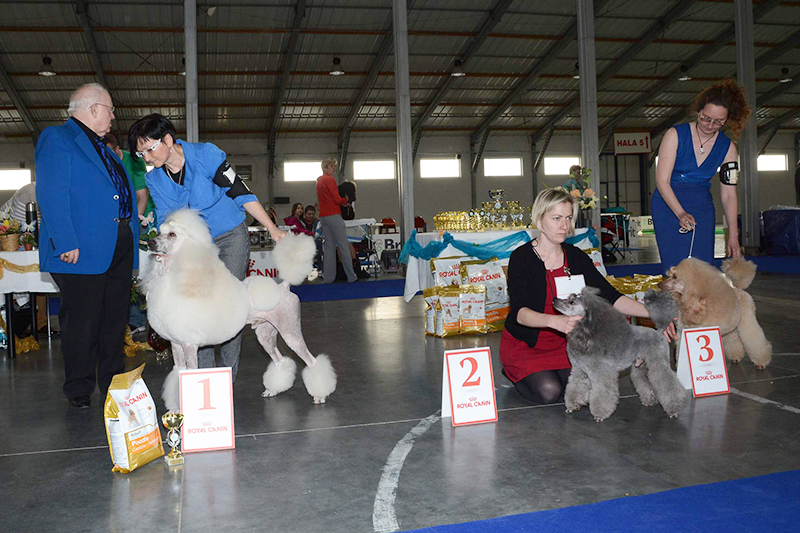 Tony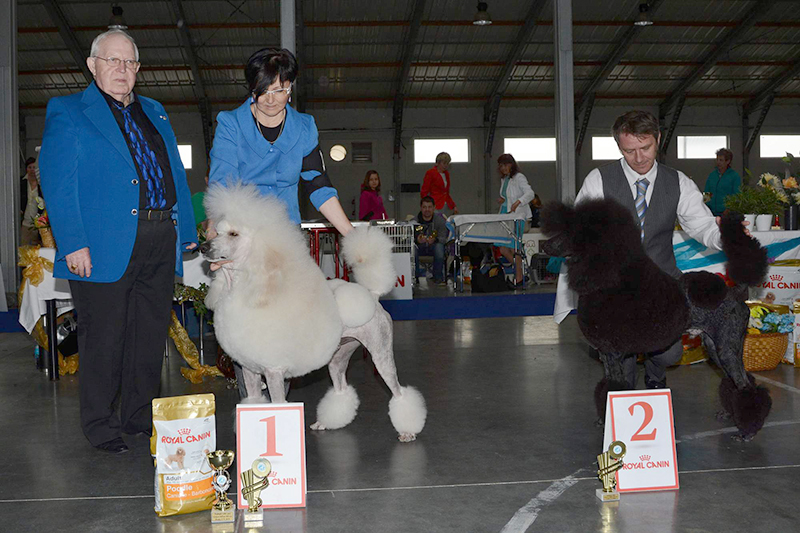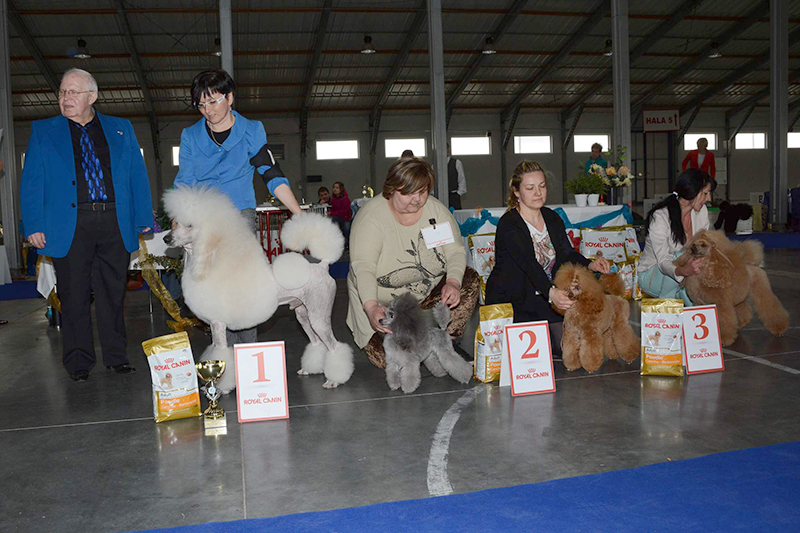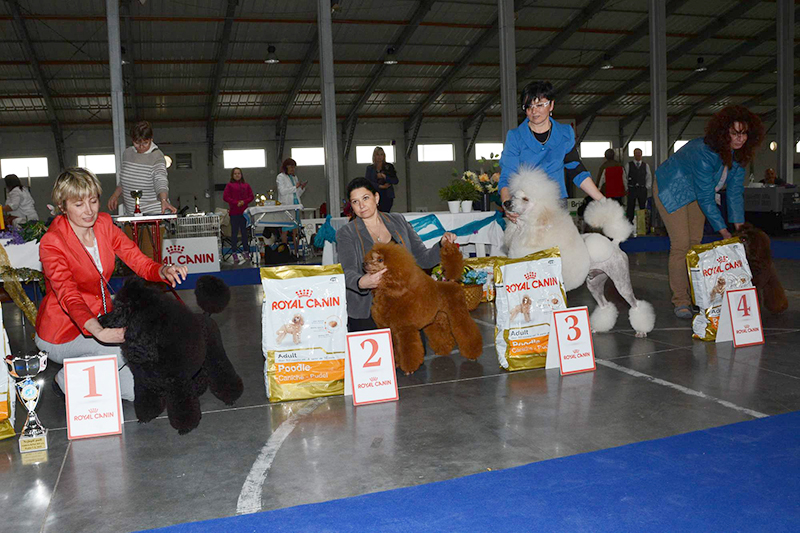 Attila
Club show KPaCHP 15.3.2015 - Prague-Stodůlky
Judge - István Csik - Germany

This show will stay in our memory forever as teh great day of our Otík.
The judge sent him on the highest place not only in competition of the best standard male and also best male but also after very nice competition became BISS. He enjoyed the show so much and represented himself with great joy. We appreciate the result very much!
Also awarding of club competition of the poodle of the year 2014 took a plce at this show. Our Otík was number 1 among standard poodles and got 2nd place among all colours and varieties!
It is such a nice result for such a young man and we are very proud any happy!
Otík also recieved diploma of Club Junior Champion.

Posledním bodem Otíkova programu na této výstavě byla bonitace. The last task for Otík at this show was stud dog regstration. He is now an officialy available stud male with very nice critic, for which we thank to comitee led by Mrs. Zuzana Větvinskou Vršeckou Attila "Otík" is now stud male without excepetions, has all teeth, HD A/A and PRA negativ.

Huge thanks belongs to my daughter for handling the braces and to Jitka Blahová for styling of our dogs.

It was also important day for our veterans Tony and Annabel, who were for the very first time shown in veteran class!!

Here are the final wonderful results:

CH. Aquillera Pikovický poklad - CAC, ČKCH, the best standard female and 2nd best female of the show, 2nd place in braces with her sire Tony
She met conditions of obtaining title Czech Grandchampion

C.I.B. Multich. Annabel du Cristaux Glaceés - VKCH, The best veteran female of the show

C.I.B. Multich. Tony White Envisan - VKCH, 2nd place best veteran male of the show
Tony was shown in great condition and also at champion presentation.

JCH. Attila AV Pes - CAC, the best standard male, best male, B I S S !!!
Attila became Club Champion of KPaCHP
1st place - Poodle of 2014 in KPaCHP 2014 among standard poodles
2nd place - Poodle of 2014 in KPaCHP 2014 among all varieties
stud male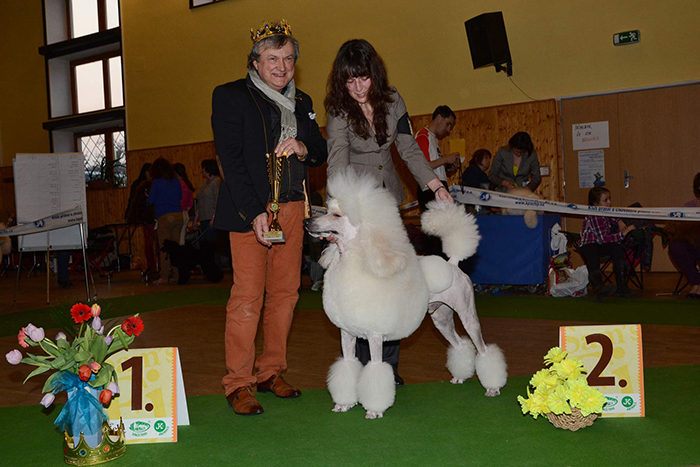 JCH. Attila AV Pes - BISS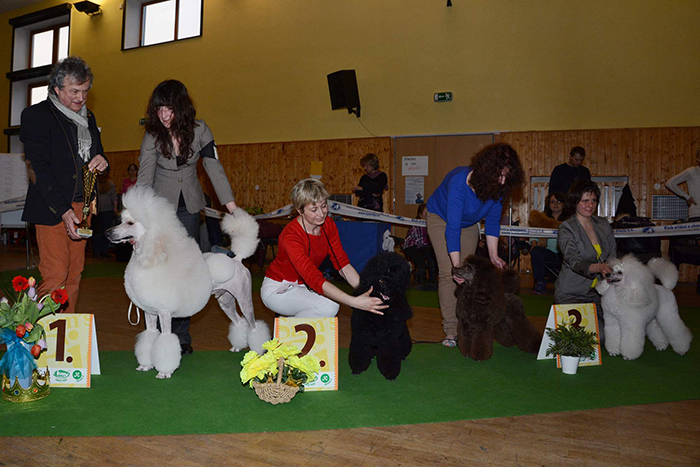 JCH. Attila AV Pes - the best male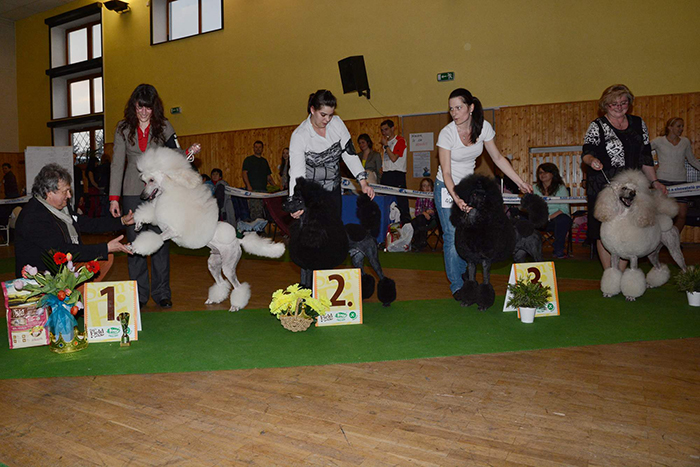 JCH. Attila AV Pes - the best standard male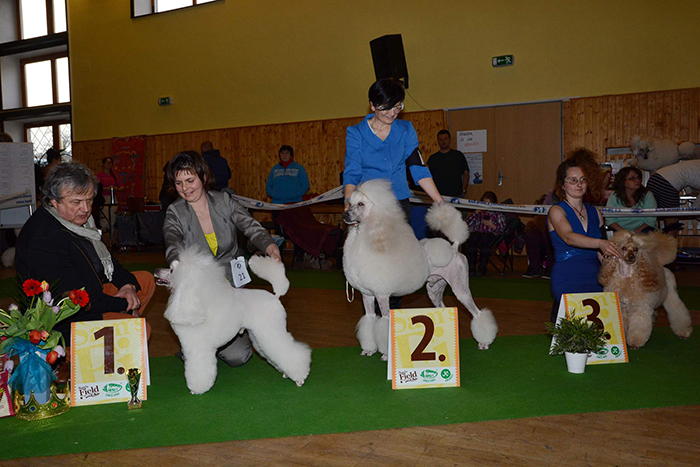 C.I.B. Multich. Tony White Envisan - 2nd place best veteran male of the show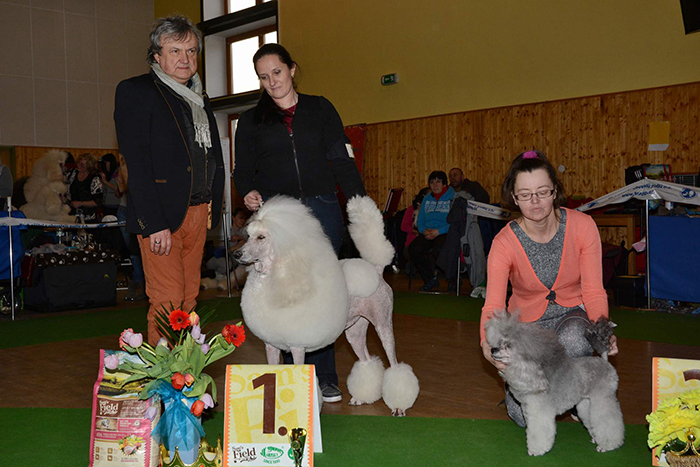 C.I.B. Multich. Annabel du Cristaux Glaceés - best veteran female of the show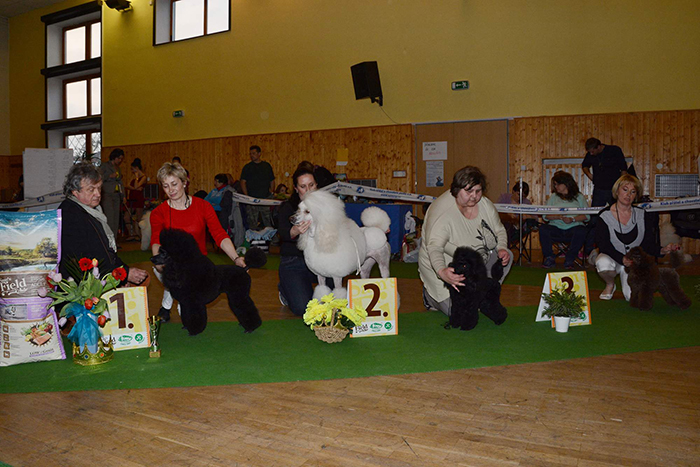 CH. Aquillera Pikovický poklad - 2nd best female of the show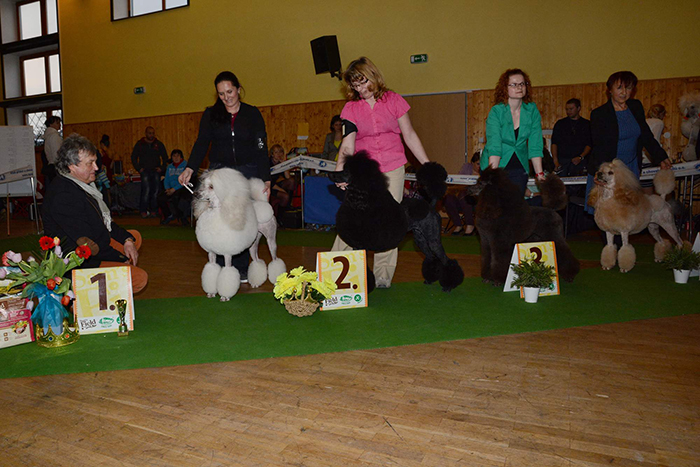 CH. Aquillera Pikovický poklad - the best standard female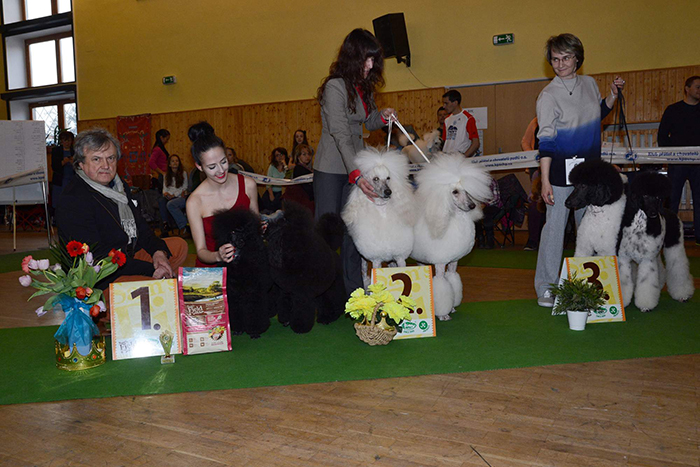 2nd place in vraces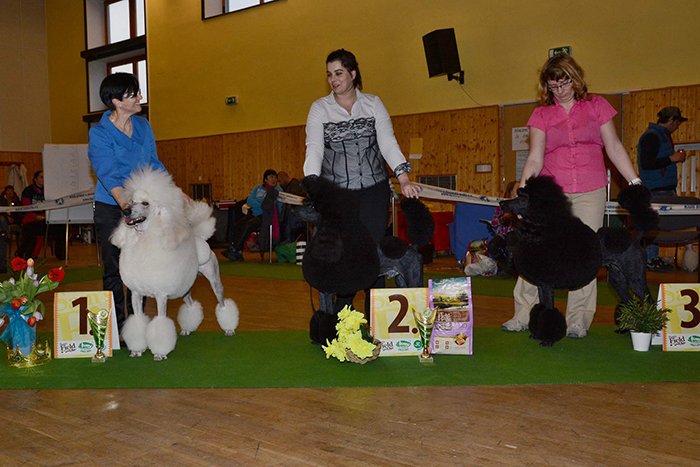 JCH. Attila AV Pes - 1st place - Poodle of 2014 in KPaCHP 2014 among standard poodles
2nd place - Poodle of 2014 in KPaCHP 2014 among all varieties